Dirty water kills
Today, almost 1,000 children under-five will die from diarrhoea. Simply because of contaminated water and poor sanitation and hygiene.
Clean water is life
Clean water can help children to stay healthy, to eat fresh nourishing food, to stay in school and stay safe. But 844 million people don't have safe water.
We believe the world water and sanitation crisis can be solved within our lifetimes. Our goal is to ensure clean water and sanitation for everyone, everywhere we work, by 2030.
Two girls. 6k and a pipeline.
Cheru's Story
Cheru is just five years old and lives in Kenya. Every day she has a three-hour struggle to collect scoops of water into her little kettle. She treks to a dry river bed where she and her friends must dig through the sand until they reach water. Dirty, contaminated water. And the journey will only get harder. The dry season is approaching. As water sources dry up people and animals will all be competing for the water they can find. Digging deeper, walking further, even risking a crocodile-infested river.
Water or School
"When it's very dry, it's hard for kids to get to school," Cheru's mother Monica explains. "They have to wait too long at the waterhole, or look after the younger kids while their mothers spend the whole day collecting water from far away."
Child Sponsorship can reshape her community for life.
 Kamama's story
Kamama is five too. She lives just a few miles away from Cheru and we've been working with her community for a while.
Kamama's days are not shaped by the walk for water. In fact, her future has been opened-up thanks to a new water supply straight to her community.
Her mum, Julia, explains: "She [Kamama] can go to school early and study well, wear clean clothes and not be tired or sick. To drink clean water and keep your children clean, this is the good life."
The local primary school has grown
In just two years the primary school has grown from 200 to 500 pupils – children have time to get to school now.
And while the school is busier, the local health centre has seen a sharp drop in cases of typhoid and other waterborne diseases. Samuel Lemungole, from the health centre says:
"Water has changed everything for the better."
OTHER WAYS TO GIVE
There are many ways you can support our work. Find out more below.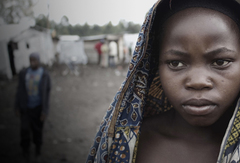 Raw Hope
Give regularly to help children living in the most dangerous places on earth.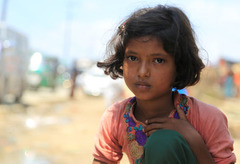 Make a Donation
Help us to protect vulnerable children around the world.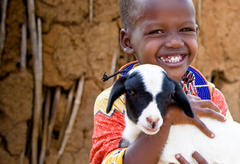 Must Have Gifts
Provide real gifts making a real difference.
* Based on an average of 2.86 million people per year over the last five years (2013-2017) reached with access to clean water, and an average of seven schools/ day over the past two years (2016-2017).
2.86 million people per year/ 31,536 million seconds per year results in one person on average every 10 seconds being reached with clean water. An average of 2,264 schools were reached over two years. That is equivalent to seven schools per day, rounded down to three schools per day to account for potential fluctuations from year to year given that data has been tracked for only two years.]