WORLD VISION IN ZAMBIA
Helping Zambia's most vulnerable children
Families in Zambia are facing rising costs for food and fuel, while low rainfall means farmers can't grow enough food.
World Vision started work in Zambia in 1981 and today, we're working with vulnerable communities in 40 long-term programmes. Child sponsors in the UK are transforming lives in the Keembe project.
Livelihoods
Issue: In rural areas 77.9% of families live in extreme poverty.
Up to 2017 World Vision Zambia had helped to form about 2,300 saving groups with a total of approximately 37,500 individual savers, supporting each other to save and develop their farms or businesses.
Health
Issue: Young children under-five – and their mothers – need more health support.
In 2017 we provided nearly 3 million children with vitamin A and other preventative care
15,405 children received life-saving vaccinations.
Water
Issue: Less than half of families in rural areas can access clean water.
In 2017 World Vision Zambia drilled 243 boreholes and restored 139 more. 142,554 people got better access to water.
Child Protection
Issue: One in three girls will be married or pregnant before the age of 18. And with less than 15% of births registered, many children are missing out on support and rights.
In 2017 We helped 69,500 children get recognition through registering their births. 683 children took part in children's councils and16 district child protection committees were created.
Education
Issue: 63% of people in Zambia are illiterate.
In 2017: 1,875 books were given to reading camps, while schools received 49,194 books.
ZAMBIA: EXTRA INFO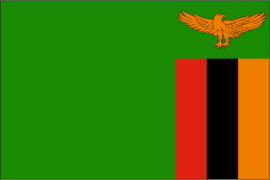 Zambian flag
Time: The time in Zambia is GMT+2.
Capital: The capital of Zambia is Lusaka.
Currency: Zambian kwacha
Main languages: English and several regional languages.
Facts and figures from WVI Zambia and Zambia annual report