WORLD VISION IN SIERRA LEONE
Helping Sierra Leone's most vulnerable children
World Vision started working in Sierra Leone in March 1996 during the civil war. After the war ended, our work moved into long-term development programmes – helping communities to rebuild and move forward.
World Vision donors from around the world have so far helped 750,000 children – and their families and communities – in Sierra Leone. Child sponsors from the UK are currently bringing change to four long-term projects: Jaiama Bongor, Jong, Tegloma and Imperi.
Livelihoods
Issue: Two-thirds of the people are subsistence farmers, growing just enough food to feed themselves and their families.
In 2017, our savings groups' memberships grew by 35% 6,662 households received improved seeds
The number of families facing hunger has dropped – from 95.9% in 2016 to 23.3% in 2017.
Health
Issue: Malnutrition, unsafe water, poor sanitation and hygiene and lack of birth support, are all endangering children's health.
In 2017: In the areas where we work, 82% of births were assisted by skilled birth attendants (against a national average of 54%).
And 85% of children were immunised on time (compared with 58% nationally).
Water
Issue: 40% of people still get their drinking water from unprotected sources.
In 2017 49,670 people gained access to clean drinking water and 47 boreholes were drilled.
Child Protection
Aim: Children can feels safe and secure, enjoying positive relationships with their families and communities.
Impact: New children's groups and special events for the Day of the African Child, are building children's confidence and leadership skills.
Education
Issue: The good news is that school enrolment is going up – but local schools are struggling to meet demand, leading to overcrowded and under-resourced classrooms.
In 2017: 225 classrooms were built and furnished – helping 63,880 students.
168,474 children are getting a better education after 3,364 teachers trained on improved teaching methods.
SIERRA LEONE: EXTRA INFO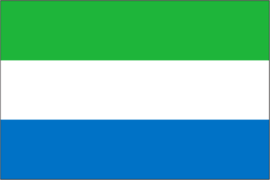 Sierra Leone flag
Time: The time is GMT+0.
Capital: Sierra Leone's capital is Freetown
Currency: Sierra Leonean leone
Civil war: A coup in 1992 deposed President Momoh, leading to 10 years of violence, coups and power struggles. By its end in January 2002 an estimated 50,000 people had died and approx. 2 million had been displaced.
People: The population of Sierra Leone is now more than 7.8 million. (UN estimate 2019) Main languages: English, Temne, Mende and Krio.
Fact and figures from WVI Sierra Leone and Britannica