WORLD VISION IN NEPAL
Helping Nepal's most vulnerable children
After Nepal's 2015 earthquake, World Vision provided disaster relief to many affected children and their families – and we stayed to help their communities rebuild a stronger future.
We've been working in Nepal since 2001. World Vision supporters and partners around the world are currently helping to transform children's lives in 12 districts of Nepal – with a goal to help 1 million children by 2020. Child sponsors in the UK are bringing change to families in the Sarlahi long-term programme.
Livelihoods
In 2017 Almost 10,000 families were able to earn better incomes, thanks to vocational training, and gifts of livestock and farming supplies.
Health
In 2017 16,321 mothers and caregivers took part in nutrition training, while we also supported improvements in 14 birthing centres.
Water
In 2017 we repaired 48 community drinking water supplies after they were destroyed by the 2015 earthquake.
Although it's been illegal since 1963, more than a third of girls in Nepal marry before the age of 18.
Child Protection
In 2017 27 child marriages were prevented, thanks to awareness and action by communities working with World Vision.
Education
In 2017 our education projects reached 30,125 girls, 28,704 boys and 33,933 and we set up 442 reading camps.
NEPAL: EXTRA INFO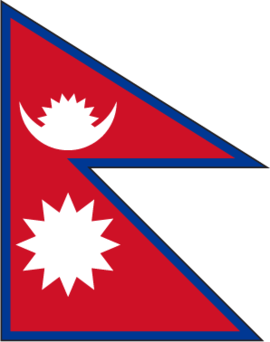 Nepalese flag
Time: The time in Nepal is GMT+5:45.
Earthquake: Since Nepal's 2015 earthquake, World Vision (working with partners) has helped 573,688 people in 10 of the worst-affected districts.
People: The population of Nepal is approx. 29.3 million (World Bank, 2017). Almost half the population are children.
Capital: The capital of Nepal is Kathmandu.
Weather: Nepal's climate has four seasons, following a similar pattern to the UK. However, summer (June to August) is also monsoon season.
Facts and figures from WVI Nepal and Nepal annual report