WORLD VISION IN MYANMAR
Helping Myanmar's most vulnerable children
Children in Myanmar are vulnerable to exploitation, disease and disaster. World Vision has been working in Myanmar since 1991 focusing on education, health, nutrition, livelihoods and child protection. We've also responded to help communities caught in various disasters.
World Vision child sponsors from around the world, together with over 600 staff members and 5,000 volunteers, are bringing change to children in 33 long-term programmes. Sponsors in the UK are transforming lives in two of these programmes: Amarapura and Tiddim.
Livelihoods
Aim: To help families increase their income, whether through better farming, or other job opportunities.
In 2017, 30,000 people received farming materials, training and livestock. 21,750 people took part in Village Savings and Loan Associations
Health
Aim: To improve the health of mothers and young children through training community health volunteers, better ante- and post-natal care and immunisation.
In 2017, 13,034 insecticidal mosquito nets were distributed, while 1,857 community health volunteers took part in training
Water
Aim: For young children and their families to have better access to water and sanitation.
In 2017, World Vision Myanmar built 80 new water sources, repaired 35 existing sources and improved 13,167 water treatment and storage facilities.
A number of children in Myanmar are living on the streets, estranged from their families. Root causes include poverty, fractured family systems, lack of education, and lack of awareness of children's needs and rights
Child Protection
Aim: Poverty, fractured families, lack of education, and little awareness of children's needs and rights, create a vulnerable place for children. We're focusing on trafficking and child soldiers, as well as street children, with drop-in centres and temporary shelters to support orphans and vulnerable children.
In 2017, 634 Child Protection Advocacy groups were created. 138 child soldier cases were reported via the hotline World Vision Myanmar manage and 73 were reunited with their families and communities
Education
Aim: Poverty forces many children in Myanmar to drop out of school to earn a living. The more vulnerable these children are, the more difficult it is for them to return to school.
In 2017, 14,944 children attended our 513 Early Childhood Care and Development centres.
MYANMAR: EXTRA INFO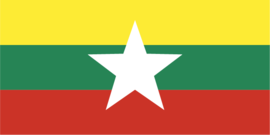 Myanmar flag
Capital: The capital of Myanmar is Naypyitaw (previously Yangon)
Time: The time in Myanmar is GMT+6.30.
People: The population of Myanmar is approximately 53.37million (2017, World Bank), and includes 100 distinct ethnic groups.
Myanmar currency: Kyat (MMT)
Facts and figures from WV Myanmar annual report