WORLD VISION IN MOZAMBIQUE
Helping Mozambique's most vulnerable children
Children in Mozambique are being empowered – along with their communities – to build a better future. Through our long-term development programmes and disaster relief projects, we're working alongside communities for stronger families and brighter opportunities.
We've been in Mozambique since 1983 and currently have 31 sponsorship programmes, helping 3.5 million people. World Vision sponsors in the UK are helping children and communities in the Kazuzo project.
Livelihoods
Impact: In 2018 more than a thousand vulnerable young women received sewing machines so they could start their own small businesses.
Health
Impact: In 2018 More than 100,000 children are now protected against malaria, thanks to insecticide-treated bed nets distributed by World Vision Mozambique.
Water
Impact: In 2018, we constructed new boreholes, installed taps, and repaired wells, providing clean water and protecting children from waterborne diseases.
Child Protection
Impact: Our new child protection project tackles issues related to child trafficking for labour and sexual exploitation, starting with street children in the country´s capital, Maputo.
Education
Impact: Our after-school reading camps help children to boost their literacy skills.
We've opened reading camps, distributed books to book banks, and even produced new books in local languages.
MOZAMBIQUE: EXTRA INFO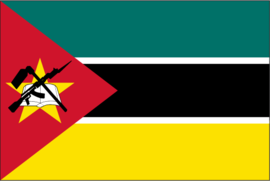 Mozambican flag
Capital: The capital of Mozambique is Maputo
Weather: Mozambique's rainy season is typically December to March, followed by a dry season from April to October. In March 2019 Mozambique was hit by Cyclone Idai, causing severe floods and killing hundreds of people.
Official language: Portuguese
Fact and figures from WVI Mozambique