WORLD VISION IN MALAWI
Helping Malawi's most vulnerable children
Children in Malawi deserve a bright future. World Vision Malawi is focussed particularly on ensuring children and mothers have better health and nutrition, improved literacy and a safe environment. We also work together with children and communities to help them have a stronger voice.
We've been in Malawi since 1982, and today we're working in all 28 districts and aiming to improve the wellbeing of 4 million children. Sponsors in the UK are bringing lasting transformation to the children and communities of Kayezi programme.
Livelihoods
Aim: Families need to produce more food, and more income. We're working with families and farmers to increase their ability, connect them to available support networks and start new savings groups for rural communities.
In 2017, 2,461 farming families were provided with livestock and 105 farmer field schools were established
Health
Aim: To improve feeding practices, protect against preventable infectious diseases, to help malnourished children to recover and increase access to health services.
In 2017, 5 million children were helped through World Vision Malawi's mother, baby and child health projects
Water
Aim: To make it easier to get potable water, to and improve sanitation facilities and personal hygiene in schools and communities around Malawi.
In 2017, 152,617 people gained access to clean drinking water.
Child Protection
Aim: We hope to reduce child marriages in Malawi by 20% by 2021 – helping to end violence against children.
In 2017, 1,361 girls were rescued from child marriage and went back to school.
Education
Aim: We're looking to improve education for 78,000 children, by improving teachers' capacity in 673 Early Child Development centres. World Vision Malawi has also set up 1,980 reading camps, supporting 171,783 learners.
In 2017, 429,730 children in primary schools and Early Childhood Development centres talk part in our education and literacy programmes
MALAWI: EXTRA INFO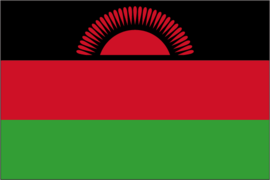 Malawi flag
Time: The time in Malawi is GMT+2.
Travel: Malawi's sub-tropical weather, along with opportunities for diving and spotting cichlids in Lake Malawi make it a great place to visit.
Main languages: Chichewa and English
Facts and figures from WV Malawi annual report