WORLD VISION IN KENYA
Helping Kenya's most vulnerable children
Children across Kenya deserve a brighter future.
Today, child sponsors from around the world are helping children in 44 World Vision long-term programmes. Sponsors in the UK are bringing change to Nyatike programme.
World Vision has been working in Kenya since 1974, and we're aiming to help 2.6 million vulnerable boys and girls.
Livelihoods
Aim: To improve livelihoods and resilience for young people, families and communities so they can provide for their children.
In 2018 8,196 households started using climate smart agricultural technologies and 9,832 people joined savings groups
Health
Aim: To promote better health and nutrition for mothers and children.
In 2018
• 158,310 women were reached with health services, including immunisation.
• 29,781 newborns received their immunisations
Water
Aim: To address the shortage of water, lack of access to sanitation facilities and poor hygiene practices.
In 2018 186,757 people were able to get clean drinking water near their home, while 49,539 children got drinking water at their school
Child Protection
Aim: To protect children from all forms of abuse, through working together with families and authorities.
In 2018 10,941 children were able to discuss issues that affect them, including opportunities to engage with the Head of state and Governors on ending violence against children.
At least 303 children were rescued from harmful and abusive practices including female genital mutilation, child marriage and child labour
Education
Aim: To improve literacy and maths skills in primary-age children, by 23%.
In 2018 36,789 children took part in a digital learning programme through World Vision Kenya.
In 2016-2017 363 new classrooms were built.
KENYA: EXTRA INFO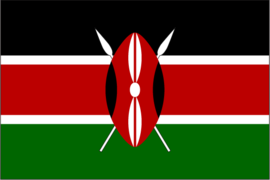 Kenyan flag
Currency: Kenyan shilling (KES)
Travel: Kenya's a prime tourist destination, with opportunities to explore the Indian Ocean coastline and to safari in the world famous Maasai Mara reserve.
Facts and figures from WV Kenya annual report and WVI Kenya report 2018