WORLD VISION IN INDIA
Helping India's most vulnerable children
Children in all areas of India deserve to live life to the full.
World Vision India's goal is to ensure the wellbeing of children – particularly the most vulnerable – within their families and communities.
We've been working in India for more than 65 years, and right World Vision donors and supporters from around the world are transforming children's lives in more than 6,200 communities across India.
Child sponsors in the UK are bringing change through three long-term programmes: Bhojpur, Patna and Vaishali.
Livelihoods
Aim: We're helping families to improve their income and provide better for their children, by supporting better agriculture, livestock and small businesses. We also train young people with employable skills. In 2017 5,223 World Vision-initiated savings groups were active across India. And 98% of them were women's groups.
In 2017 we gave almost 17,000 micro-credit loans – mostly to women.
Health
Aim: We're addressing the causes of malnutrition particularly in children under-five, pregnant women and mothers. We're using training for parents and health workers, emergency feeding programmes, nutrition gardens, supporting child care centres.
In 2017-2018 996,898 children took part in health projects.
Water
Aim: We're helping children and families to have clean drinking water, and building toilets for schools, homes and communities – changing behaviours and creating healthy environments.
As of 2018 131,771 more families can easily get clean water, from new water points in their communities.
Child Protection
Aim: Our advocacy work aims to ensure children can reach their potential and that children and their families can access the services they're entitled to.
Up to 2018 World Vision India have supported 5,410 children's clubs, where children are empowered to protect and advocate for themselves.
Education
Aim: We work to ensure children receive a quality education. Our projects include infrastructure support, remedial education programmes and supporting school management committees.
In 2018, 40,156 children had extra tutoring, at 898 centres, to help their learning and understanding improve.
INDIA: EXTRA INFO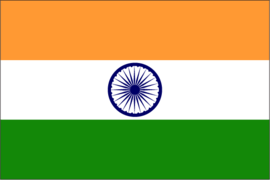 Indian flag
Time: The time in India is GMT+5.30
People: The population of India is 1.339 billion (2017).
Main languages: There are 22 official Indian languages, including Hindi, English and Gujarati.
Facts and figures from WV India annual report