WORLD VISION IN HONDURAS
Helping the most vulnerable children in Honduras
Honduras has one of the highest rates of inequality in Latin America, with almost half of rural families living in extreme poverty.
World Vision has been working in Honduras since 1974. In 2018 about 118,000 Honduran families were supported through the help of donors and partners across the world. Child sponsors in the UK are helping families in our Maya long-term programme.
Livelihoods
Impact: Honduras is one of the most disaster-prone countries in the world. This profoundly affects the economy – which is reliant on exporting food. We're helping the next generation through life skills classes, teaching critical thinking, communications skills and self-care.
Health
Impact: Prevention is better than cure. We're helping children and families to improve their sanitation and hygiene, and building new toilets for boys and girls in schools.
Water
Impact: Through building new wells and water systems, we've helped tens of thousands of people to get the clean drinking water they need.
Child Protection
Impact: We're protecting childhoods by raising awareness of the negative effects of child labour. We're also helping to shift attitudes towards violence against children, providing skills for parenting with love and respect instead of violence. Whole communities are becoming involved, with voluntary child protection teams ensuring that abuse it tackled by the authorities.
Education
Impact: As parents understand the effects of child labour, more children are able to stay in school. We're making sure they can get a quality education by creating larger classrooms and repairing and restoring existing structures.
HONDURAS: EXTRA INFO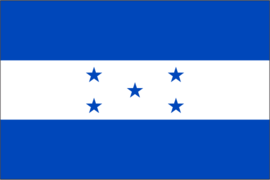 Honduran flag
Capital: The capital of Honduras is Tegucigalpa
Currency: Honduran Lempira (HNL)
People: The population of Honduras is now over 9.2 million. (World Bank, 2017)
Main language: Spanish
Fact and figures from WVI Honduras