WORLD VISION IN ETHIOPIA
Helping Ethiopia's most vulnerable children
Children in regions of Ethiopia are facing childhoods of poverty and hunger. We believe they're made for more.
We've been working in Ethiopia since 1971, including the enormous disaster relief operation during the Ethiopia famine of 1984/85. Right now, World Vision Ethiopia's goal is to help 3.5 million vulnerable children between 2015 and 2020.
World Vision child sponsors across the globe are bringing hope to 57 long-term programmes, including three funded by sponsors in the UK: Banja, Libo Kemkem & Yilmana Densa.
Livelihoods
Issue: The Ethiopian economy has suffered particularly from a lack of modernisation in farming – an area that is vulnerable to weather changes and fragmentation of farmland.
In 2017 40,711 members of saving groups were trained and 214 groups linked to potential market.
Health
Issue: 38% of children under-five are considered short for their age or stunted and 18% are severely stunted.
In 2017 2,909 Gardening for Improved Nutrition and Increased Income groups were formed, with 20,648 members.
327 health extension workers were trained on maternal and newborn care.
Water
Issue: Nearly 39 million Ethiopians, mainly in rural areas, don't have safe water supplies.
Diarrhoea is the leading cause of death for under-fives in Ethiopia.
In 2017 6,697 households were given the means to treat their water, while 56,884 water committees were established and trained.
Child Protection
Issue: 27% of children age 5-14 in Ethiopia are involved in child labour. Child marriage remains a threat to childhood.
In 2017 259 girls at risk of child marriage were identified and helped. Their families were supported to earn better incomes. 1,149 children who had experienced abuse, exploitation and violence, were helped with medical, psychosocial and basic needs.
Education
Issue: Although school enrolment is increasing, large number of young people are neither in employment nor education.
In 2017 we helped to renovate 117 primary schools for over 65, 300 students and established 1,164 reading camps that served 87,117 children.
ETHIOPIA: EXTRA INFO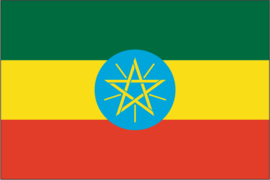 Ethiopian flag
Capital: The capital of Ethiopia is Addis Ababa.
Food: Ethiopian food is becoming popular worldwide, with a range of spicy dishes, meat and vegetable and the classic injera flatbread.
People: The population of Tanzania is now 105 million (2017, World Bank)
Main language: Amharic
Fact and figures from WV Ethiopia annual report and WVI Ethiopia food security report