WORLD VISION IN BOLIVIA
Helping Bolivia's most vulnerable children
Children living in Bolivia – one of Latin America's poorest nations – face economic hardship, lack of access to schools and poor nutrition.
World Vision has been working in Bolivia for the past 35 years and is currently helping 110,000 girls and boys in 1,300 communities. Child sponsors in the UK are particularly supporting families in the Bolivar, Tacopaya, Khantati and Mosoj Punchay areas.
Livelihoods
Aim: Help struggling families to earn a decent living.
In 2017: We run technical training courses for real income-generating skills and support farmers with agricultural tools and materials.
Health
Aim: Behavioural change to improve the care of children, pregnant women and new mothers.
Impact: Local health committees are supporting health clinics, while parents in remote areas receive training on health and nutrition.
Water
Aim: Promote better access to clean and safe water – particularly in rural areas, where 25% of families don't have reliable clean water sources.
Impact: Across the world, World Vision is reaching one new person with clean water every 10 seconds.
Child Protection
Aim: To improve systems and policies, empower communities and families to create safe environments, and ensure children are protected.
Impact: Young people are learning about their rights – and how to advocate for them
Education
Aim: For inclusive, equal and innovative education for all children, equipping them for the future.
Impact: After school clubs are helping children with homework support and to improve their maths, writing and reading skills.
BOLIVIA: EXTRA INFO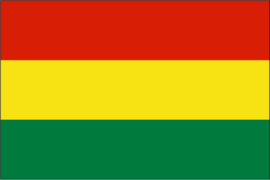 Bolivian flag
Capital: The capital of Bolivia is Sucre (constitutional capital) – La Paz is the administrative capital.
Travel: It's a holiday hotspot, with opportunities to relax on the spice islands of Zanzibar, Mafia and Pemba, visit Lake Victoria or Mt Kilimanjaro and safari in the Ngorongoro crater.
Currency: Boliviano
People: The population of Bolivia is now more than 11 million (July 2018 est., CIA World Factbook)
Main languages: Spanish and Quechua
Facts and figures from WVI Bolivia, WV Bolivia and CIA World Factbook