WORLD VISION IN BANGLADESH
Helping Bangladesh's most vulnerable children
In Bangladesh, World Vision is helping children by working with communities to address poverty, inequality and injustice, in both rural areas and city slums.
World Vision started working in Bangladesh in 1970 and is currently helping 5 million children, across 31 districts. Among these are children in our Ghoraghat programme – funded by child sponsors in the UK.
Livelihoods
Aim: To help farmers and small businesses to develop so they can provide an income.
Impact: 800+ ultra-poor families in one area, received training and support to start home farms – and can now support their families and send their children to school.
In 2017 160 young people had technical and vocational skills training.
Health
Aim: To target the root causes of malnutrition, particularly in children under-5, as well as pregnant women and mothers.
In 2017 almost 194,000 children (under-five) had regular growth checks – plus advice sessions for their mums.
Water
Aim: Focus on providing children and families with access to safe drinking water.
In 2017 27,248 families got access to a source of clean and safe water.
60,438 children took part in handwashing campaigns.
Child Protection
Aim: To improve child protection systems to tackle issues including child marriage and child labour.
In 2017 239 child marriages were stopped.
813,514 people have better understanding of – and know how to stop – child trafficking.
Education
Aim: Education is key to ending poverty. But, children are missing their education to help earn money for their families.
Impact: Since 2013 World Vision Bangladesh has helped hundreds of child labourers, supporting them to go back to school.
In 2017 23,661 children received educational support – including 400 out-of-school children.
BANGLADESH: EXTRA INFO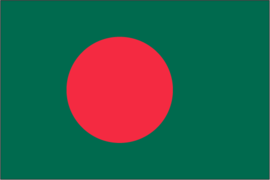 Bangladeshi flag
Weather: Bangladesh's subtropical climate has three seasons: humid summer, monsoon season and a cool, dry winter (perfect for a game of cricket).
People: The population of Bangladesh is now more than 164.6 million (World Bank, 2017)
Main languages: Bengali
Figures from WV Bangladesh annual report