WORLD VISION IN ARMENIA
Helping Armenia's most vulnerable children
1/3 live below poverty line.
One in three people in Armenia are living below the poverty line. Additionally, the country has deeply entrenched gender inequality and a large domestic violence problem.
World Vision started working in Armenia the 1988 earthquake. Now, we're serving more than 200 communities. Child sponsors in the UK are helping to transform the lives of vulnerable children in two long-term programmes: Alaverdi and Sisian.
World Vision Armenia's goal is 'a home for children and youth living with hope and dignity'.
Livelihoods
Issue: For children living in poverty, life in all its fullness begins at home – with a family that can provide for their children.
In 2017 579 parents of vulnerable children (70% women) joined 63 new Producers' groups – working together to earn a better income.
Health
Issue: Young children are suffering from malnutrition and a lack of quality healthcare.
In 2017 Around 9,000 mums trained on early childhood development. And approx 700 health care providers took part in training on child health screenings, nutrition and disease management.
Child Protection
Issue: Vulnerable families leave their children in the state's care, but they aren't well-resourced. Children are also exposed to physical and psychological violence.
In 2017 2,640 families learnt positive parenting skills and 422 teachers and specialists trained in positive discipline. Children led 99 projects highlighting community care and protection.
Education
Issue: Young people are being failed by a lack of quality education, falling into unemployment and unable to escape poverty.
In 2017 650 young people took part in IT education through 30 in-school engineering laboratories.
Around 450 young students took part in Debate Clubs across 38 schools.
ARMENIA: EXTRA INFO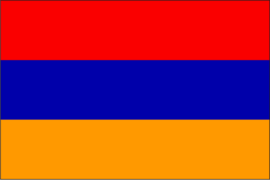 Armenian flag
Language: Armenian
Religion: Armenia is majority Christian.
People: The population of Armenia is approx. 2.93 million (2017, World Bank)
Alphabet: The Armenian alphabet shares similarities with Latin, Coptic and Cyrillic.
Figures from WVI Armenia and WVI graduation report