WORLD VISION IN ALBANIA
Helping Albania's most vulnerable children
Children in Albania face injustice in many forms, including abuse, violence, labour, exploitation and early marriage. Child protection and education are the key focusses for us.
World Vision started working in Albania in 1999 (the Kosovo refugee crisis). Today, child sponsors around the world are helping to transform the future for thousands of Albanian children. And UK sponsors are supporting change in the communities of Lezha and Shkodra.
Livelihoods
Impact: It's common for family breadwinners to migrate to find work. Our programmes are helping families to stay together, learn trades and build businesses.
Health
Impact: Children learn about nutrition, hygiene and substance abuse. They're empowered to help themselves, and to spread the news to their peers and families.
Water
Impact: In rural areas, many communities still rely on streams and old wells. New wells have been dug – allowing schools and families to get clean water to drink, wash and cook with.
Child Protection
Impact: 77 child protection workers from have been trained on the new law on child rights and protection.
44 children's groups took parts in advocating the role of child protection workers in protecting children from violence.
Education
Impact: 538 teachers were trained on inclusive education. We also supported 50 projects on inclusive and accessible education, considering children from minorities and with disabilities in particular.
ALBANIA: EXTRA INFO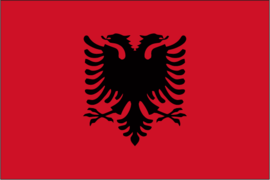 Albanian flag
Capital: Albania's capital is Tirana
Travel: With beautiful beaches, wild rivers and awe-inspiring mountain landscapes, a holiday in Albania can be a real adventure.
Language: Take your 'Albanian to English' dictionary. 98.8% of people speak Albanian as their main language.
People: The population of Albania is more than 3 million (2018 estimate, CIA World Factbook)
Figures from WVI Albania and CIA World Factbook