Other Past Emergencies


GUATEMALA VOLCÁN DE FUEGO ERUPTION – START FUND
On June 4 2018, the Guatemalan Volcán de Fuego erupted, causing damage and loss of life across three central states. A staggering total of 1.7 million people were affected by pyroclastic flows and ash fall that claimed the lives of 165 people. The eruption was the most severe Guatemalan volcanic eruption in 45 years.
As part of World Vision's response to the eruption, through the Start Fund, we concentrated on two sectors in particular: Water, sanitation and hygiene as one sector, and protection (including gender-based violence) as the second sector. Through these sectors:
Child Friendly Spaces were set up in 17 government-run shelters. Along with four full-time psychologists, 20 part-time volunteer psychologists were trained in how to work within the Child Friendly Spaces.
These Child Friendly Spaces helped 277 children.
Group play sessions were held for children under the age of six.
34 toilets, 30 showers and vital cleaning supplies were provided to 14 shelters.
24 water tanks were delivered to increase the supply of water to 14 shelters.
MYANMAR FLOODS
In July 2018, Myanmar experienced intense rains and subsequent flooding. The states of Mon and Kayin were the worst-affected and more than 25,083 people in Kayin State were evacuated. World Vision Myanmar was awarded a Start Fund grant, with which they distributed 30,000 Kyats (USD 21) each to 5,376 households, benefiting 25,764 people in 78 villages.
The cash amount was designed to meet emergency and immediate needs of households. Most of the recipients spent it on food, medicine, shelter repair and transportation to find casual work in other locations.
BURUNDI - REFUGEES FROM THE DRC
Since August 2017, the security and humanitarian situation in South Kivu, the Democratic Republic of the Congo (DRC), has significantly deteriorated. In January 2018 there was a large influx of people crossing the border for safety, from the DRC to Burundi.
By 28 January 2018, according to the Burundian authorities, 8,152 people (6,934 Congolese and 1,218 Burundians) had crossed Lake Tanganyika into the Burundian provinces of Rumonge and Makamba. A day later, 823 more arrived at the coasts of Burundi. By 30 January, the number of refugees which had crossed into Burundi had significantly increased to an estimated 9,078 people. 65% of those crossing the border were children.
How we helped
We supported the most vulnerable refugees in the camps by distributing 500 hygiene kits (including soap and sanitary pads for 800 women), preserving the health and dignity of vulnerable female refugees. The hygiene kits should help reduce communicable and water-borne diseases, particularly for pregnant and breastfeeding women and children under five years old.
We've also constructed two latrine blocks for 740 people to use, and two bathroom blocks (each with rain water collecting systems).
Lastly, we distributed packs, including items such as blankets, mattresses and soap to 2,473 refugees.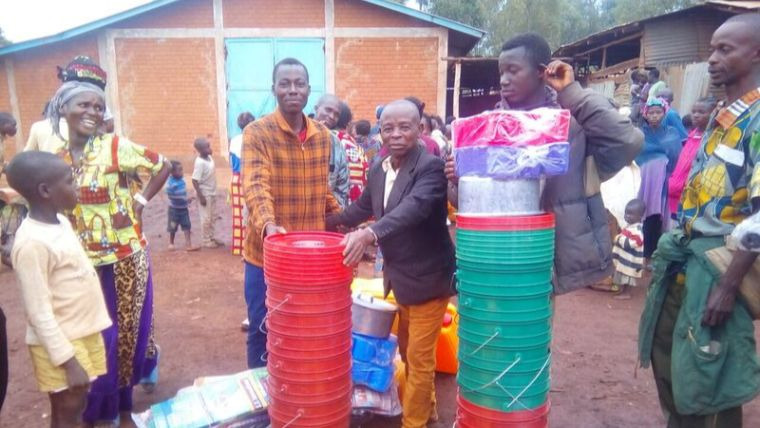 FLOODING IN ALBANIA
Albania had unprecedented rainfall in December 2017 leading to widespread flooding. Over 3,000 homes and businesses were flooded. Some 75,000 residents were affected by power cuts and thousands of hectares of farmland were submerged underwater. Families were left in desperate need of food, shelter and other necessities.
In the aftermath, communities were in desperate need of food. Most of their food reserves were destroyed by the flood and they were struggling to survive without support. We reached 2,620 people with food and other items such as blankets, clean-up kits and other domestic materials. We worked with social services, municipalities and community leaders, to prioritise families with low income, from Roma and Egyptian minorities, and households with disabled members and young children. The urgent need became even more critical in light of worsening weather conditions. Providing food and other aid enabled households to use the little money they had to buy other essentials that the project couldn't supply.
MEXICO EARTHQUAKE
In September 2017 an earthquake (magnitude 8.2) was registered off Mexico's southern coast. The states of Chiapas and Oaxaca, home to about 9 million people, were closest to the earthquake's epicentre. They're two of the most impoverished areas in Mexico. The earthquake was the most powerful tremor in Mexico since the 1985 earthquake, which killed more than 10,000 people.
Families' livelihoods and incomes were affected, and there was an urgent need for food and clean water.
We helped 4,273 people get food, clean water and hygiene kits (to prevent disease outbreaks). The people we helped were from the most affected families, including those who couldn't travel to earthquake shelters.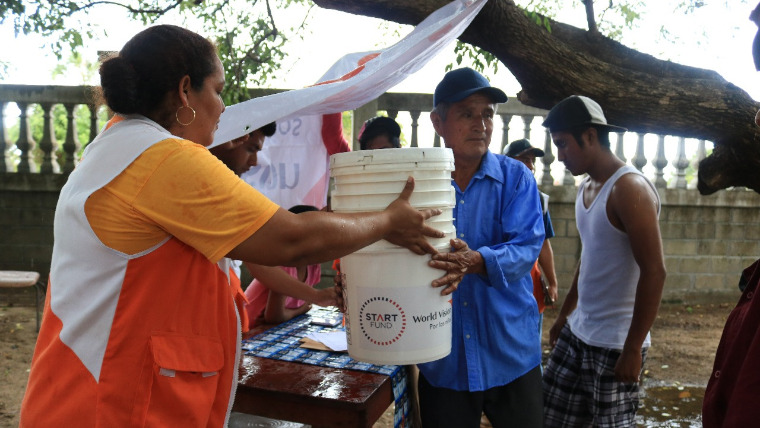 LANDSLIDES IN BANGLADESH
On 13 June 2017 the districts of Bandarban, Chittagong, Rangamati, Khagrachari and Cox's Bazaar in Bangladesh suffered from possibly the deadliest landslides in their history. The landslides killed at least 160 people, 187 people were injured and 6,000 homes were destroyed, along with other key infrastructure.
80,0000 people have been affected across the five districts. Among them 42,000 have lost their houses, belongings, livelihoods and food stocks.
World Vision Bangladesh received a Start Fund award to provide 100 households with shelter support. Each received 16 corrugated iron sheets with a one-off cash payment or shelter construction. In addition, we've supported 783 families with cash to repair damaged homes and buy food. All 883 households also received hygiene kits.
Project highlights: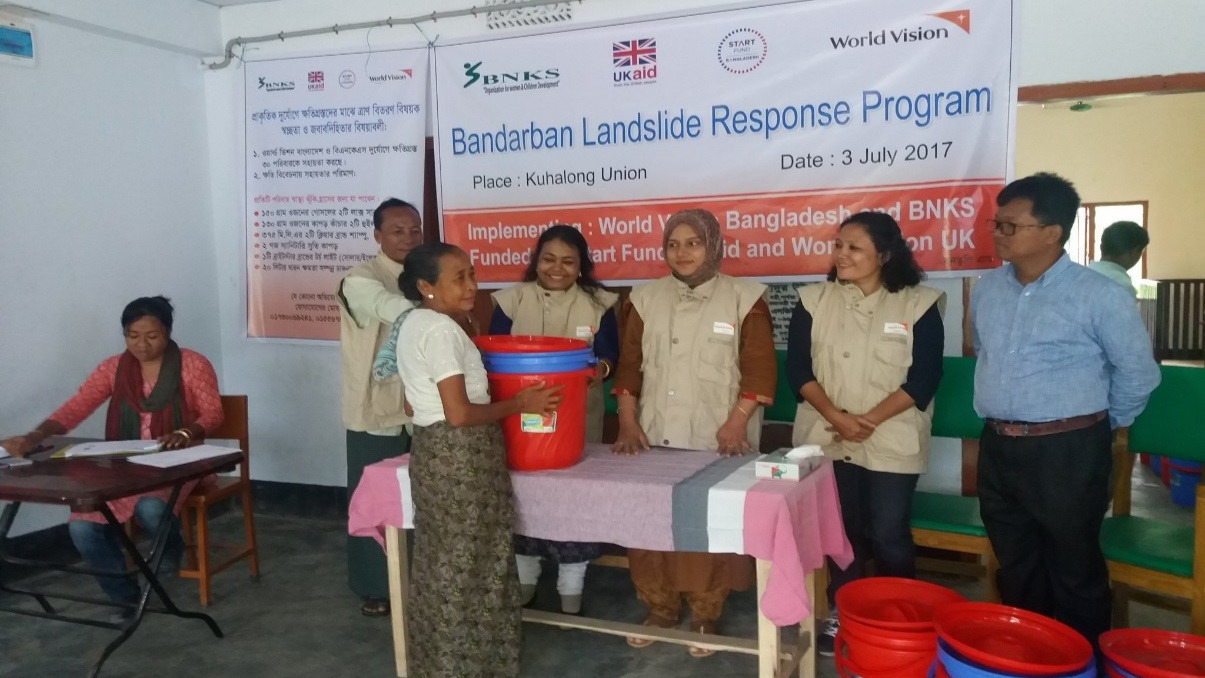 Economic empowerment: The cash families received empowered them to meet their own individual needs. Each household also now has a mobile bank and mobile SIM card, that they can use again in the future.
Build back better: Houses have been rebuilt and repaired. They're much stronger now, and new homes have been built in safer places, so children can be better protected from future disasters.
Networks: Everyone we helped was registered with a phone network and given a SIM card. This meant they could be contacted and supported at any time throughout the disaster - and this could provide a lifeline in future emergencies. This SIM card was also linked to their own bank account and used for cash transfers.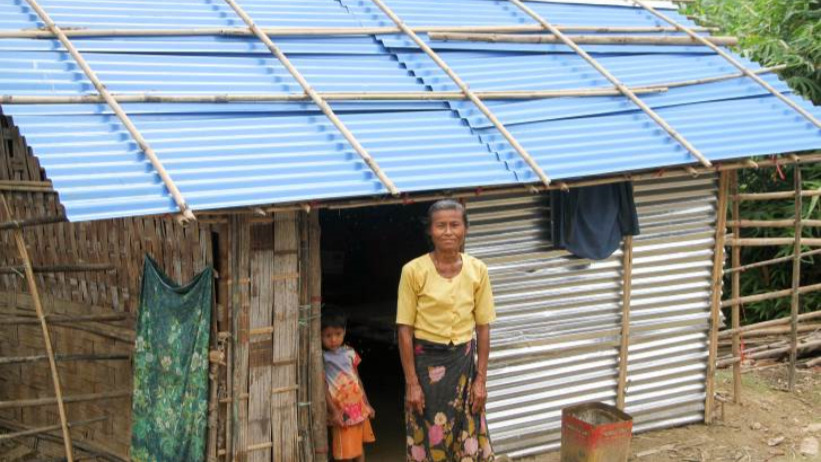 Ma Mya Marma is from one of the affected communities . Her house was completely destroyed by the landslide.
She's rebuilt her home with the 16 sheets of corrugated iron and £47 we gave her for shelter construction. She is happy with her new house. Ma expressed thanks and gratitude to the donors and agencies for their help and support:
"It wouldn't be possible for me to rebuild my house, but this support has helped me to build my home"

THANK YOU
Since 1 October 2014 you've helped us raise over £38,808 for our emergency work.
This enables us to be better prepared when emergencies strike, so we can save more lives of children in the world's hardest places.