Latest news: Ebola free
Thanks to your donations and the tireless work of health workers, burial teams, World Vision staff and other NGOs, Sierra Leone has been declared Ebola Free by the World Health Organisation (WHO). No new cases of Ebola have been reported in Sierra Leone since January 2016. 

However even though the media spotlight has turned away from Sierra Leone your support is still needed to help communities recover from the economic effects of the crisis and to help families recover from personal loss.
ebola and children

After the Ebola outbreak began in May 2014, more than 8,700 people in Sierra Leone were infected by the virus and it claimed the lives of 3,589 people, including 945 children.
According to UNICEF over 19,000 children were personally affected, having either contracted Ebola themselves or lost one or both parents to the virus. After suffering illness and loss, they've also had to face continuing stigma.
Children were further affected when schools across the country closed at the height of the epidemic. Routine child health checks and immunisations were disrupted as health centres dealt with overwhelming numbers of priority Ebola cases.
Children shared their personal experiences and deep concerns about the devastating long-term effects on their lives as part of the Children's Ebola Recovery Assessment report. The study was conducted by World Vision, Plan International and Save the Children, with the support of UNICEF, in March 2015. More than 1,100 girls and boys aged 7 to 18 from nine districts were consulted about the impact of Ebola.
How donations helped
We reached 1.6 million people during the epidemic. We are thankful that not one of the 58,000 sponsored children in our partner communities was lost to Ebola.
We've been working with communities in Sierra Leone for almost 20 years. This relationship and trust with communities, leaders and families meant we were able to get prevention messages and safer burial and hygiene practices in place quickly.
Please see our report below on the work we did in education, health, child protection, livelihoods food assistance and safe and dignified burials.
Please share this report using the icons below


During the outbreak, thanks to donations from the UK public and funding from the UK Government (DfID), we worked with communities throughout Sierra Leone to help stop Ebola's spread, and to help families cope with quarantine, isolation and loss. Much of that work will continue to have an impact as communities stay safe and help children recover from bereavement.
With money you donated to our Ebola appeal:
•    We provided training and 5.4 million items of protective equipment for health workers (suits, gloves, face masks etc.), as well as food and hygiene supplies for families in quarantine.
•    We distributed 30,000 radios to support children by broadcasting catch-up classes during the nine-month school closures and 13,430 of our volunteers cleaned 2,686 schools so that children could return to their education.
With Department for International Development (DFID) funds from the UK public:
•    We supported 12 District Ebola Response Command Centres, maintained a fleet of 1,073 ambulances, hearses and service vehicles, and enabled 36,533 safe and dignified burials that will perhaps be remembered as our greatest contributions. The programme was carried out in partnership with Cafod and Catholic Relief Services (CRS).
•    We also built 168 classrooms to reduce overcrowding in schools.
•    We supported over 29,000 small traders – up to 80 per cent of whom are women – to kick-start their businesses after the outbreak by providing small loans and grants. This project was a partnership with Brac, Catholic Relief Service (CRS) and World Hope International. We also trained 36,000 teachers (564 of these were trained with DEC funding) in psychosocial first aid
With funding from the Disaster Emergency Committee's (DEC)  appeal:
•   We helped train home visitors for bereaved children and dignified burial teams.
•    We trained over 2,000 community and religious leaders to spread prevention messages.
•    We provided over 1000 children with food packages.
•    We gave cash support to 734 caregivers of Ebola orphaned children to help them provide for children in their care.
•   We trained community groups (child welfare committees, moth.ers clubs, and children's club) in over 240 communities to give mental health and psychosocial support.
.•   We  trained over 160 faith leaders on Ebola prevention and addressing child protection issues with their congregations.
•    With children increasingly vulnerable because of the crisis, we trained 570 health care workers, traditional leaders and parents in care and psychosocial support for survivors of sexual and gender-based violence.  We also taught 824 adolescents about sexual and reproductive health issues.
•   We provided 120 schools with hygiene kits and pupils in those schools were taught about good hygiene and Ebola prevention. Over 2,000 Ebola-affected children received school bags and books to help them return to school.
Recovering
As we've seen from the two cases of Ebola in January 2016,  precautions still need to be taken and the long-term effects of the outbreak will continue to be felt for some time.
We cannot become complacent. A reported 50 per cent of countries that previously had Ebola outbreaks suffered a new outbreak within 24 months of being declared free of the disease. We must strengthen our health-care systems and education structures to ensure that our children are protected from future epidemics. Thank you for walking with us and for your continued support on the long road to recovery ahead.
- Leslie Scott, former National Director, World Vision Sierra Leone
Children and communities will still be feeling the economic, social and psychological effects of Ebola for years to come. We are committed to the long-haul and will continue to be an important part of recovery in those communities.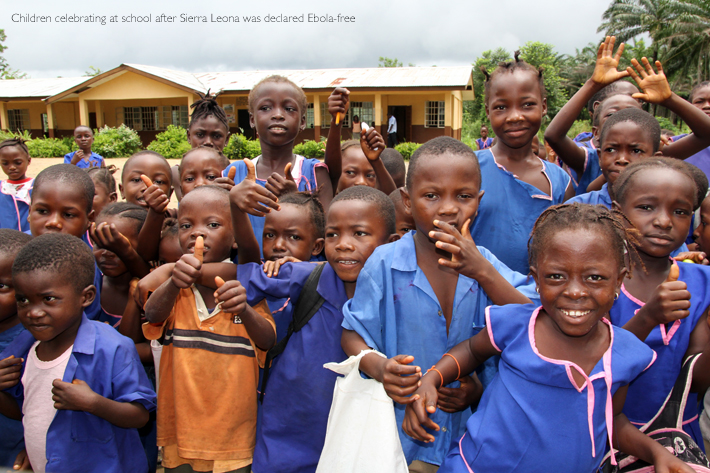 You can be part of this by sponsoring a child in Sierra Leone.
Our emergency fund can be used straight away in an emergency situation. By giving to the fund you help children and families caught up in an emergency, such as the Ebola virus, as soon as it strikes.
We're supporting the Government of Sierra Leone's Ebola Recovery Plan, focusing on the following five areas:
1. Health

Before Ebola began, about one in six Sierra Leonean children died before their fifth birthday from preventable diseases like diarrhoea, pneumonia and malaria. Close to 40 per cent of children were chronically malnourished, affecting their health and their physical and psychological development. Significant long-term investments are needed to build a strong and resilient health system to respond better to future outbreaks, as well as other diseases that claim the lives of thousands of children each year.
We'll continue to operate health and nutrition programmes for children, while advocating for improved national healthcare systems.

2. Education

Education experts believe children might not catch up academically until later this year, following the nine-month school closure. We'll support the Ministry of Education, Science and Technology (MEST) by working with existing agencies (local governments, school management, education specialists and community groups) to find solutions to education barriers. For example, our Reducing Overcrowding and Improving Sanitation in Schools (ROISS) project is a response to the challenges identified by MEST. The project is funded under DFID's Secondary School Education Improvement Programme (SSEIP) and aims to improve learning by creating healthy and sustainable  environments for the children and teachers in secondary schools. 
The consortium comprising World Vision, Street Child and CRS is collaborating with MEST to build 225 classrooms, 10 wells, six latrines and furniture for 324 classrooms.

3. Child protection

Children need extra protection following the Ebola crisis. We'll work with communities and families to protect children made vulnerable by bereavement. Our Home Visitors Programme will support especially vulnerable children and families with psychosocial first aid. 

4. Livelihoods

Sierra Leone's economy was ravaged by restrictions on movement, affecting farming and trading in particular. We'll be supporting traders and small businesses, farming associations and women's savings groups to bolster the local economy and help household incomes recover.
5. Food assistance

Families across Sierra Leone face food shortages following Ebola. We'll conduct a school-feeding programme for more than 53,000 children. We're also providing food assistance through cash transfers. A nutrition programme will support children under the age of five and pregnant and new mothers.
Read our latest report here:
Download the report »
Thank you
You've donated more than £335,446 for people affected by Ebola in Sierra Leone.
Below is a thank you from one of the burial team workers:
I want to thank our British friends – everyone who donated to our work, and the UK government for giving us the grant to make our burial work possible. Amid the despair of Ebola, you walked with us. You enabled us to bury our loved ones the way you would bury your own – with dignity, respect and honour. Recovering from Ebola will take us years. But we will find comfort on the hard path to healing knowing that we did right by our parents, our spouses and our children in death.
- Maseray Kamara, represents 803 burial team members honoured by Bond with a humanitarian award.