Cyclone Idai and floods 2019: Southern Africa
What happened?
It has been five months since a tropical depression that had caused serious flooding in Malawi and Zimbabwe developed into Cyclone Idai. Idai made landfall in Mozambique on March 14, before sweeping back through Malawi and Zimbabwe, killing an estimated 957 people and leaving 3.3 million in need of humanitarian assistance. 1.6 million of them are children.
Roads, bridges, houses, schools and health facilities were torn apart by vicious winds and extensive flooding. Now that the water has receded, work is focused to repair roads, reconnect electricity and supply water to those who were completely cut off. 250,000 houses were destroyed, meaning 277,885 people have been displaced.
The disaster has affected many children and communities, and they're left at risk of disease, hunger, injury and death. The risk is only made worse now that Cholera has been spreading through areas affected in Mozambique. Many children have been separated from their families and loved ones. The situation is not over for those affected and they need our support urgently.
How are we helping?
Thanks to our donors we already had aid items in our closest warehouses, ready to send into the worst affected areas.
World Vision UK has been raising money to help assist in the relief efforts. With your help we have raised £404,186. We're collaborating with National Offices to make sure the money raised can be used in the best way for those who are suffering.
We're also members of the DEC, whose DEC Cyclone Idai Appeal has raised £35 million with the help of the UK public (as of 25 April 2019).
World Vision Mozambique has distributed 4,918 metric tonnes of food. With 71,643 households being provided with life-saving food assistance. 23 Child Friendly Spaces have been opened to give children somewhere to play, learn and get support. World Vision Mozambique has also given out 33,808 blankets, 18,340 tarpaulins and 9,874 hygiene kits to people affected by the cyclone. 611 pregnant and breastfeeding women have been provided with information on infant and young child feeding to ensure good health for children in this emergency context.
World Vision Malawi has so far been able to support 201,893 people with 751 metric tonnes of live saving food. Water, sanitation, hygiene and information services have also been provided to 80,190 people, with another 31,328 people benefiting from hygiene promotional activities. They are also helping families rebuild their homes in safer more robust ways, after many houses collapsed due to the persistent rains. World Vision has conducted Channels of Hope for child protection training to selected community members in target districts.
World Vision Zimbabwe has so far reached 23 schools with support in water, sanitation and hygiene, child protection and assistance to resume classes. 50,655 people have been given lifesaving food assistance boosting food security and livelihoods. A massive 120,000 water treatment products have also been distributed. New Child Friendly Spaces have been opened to support 400 children.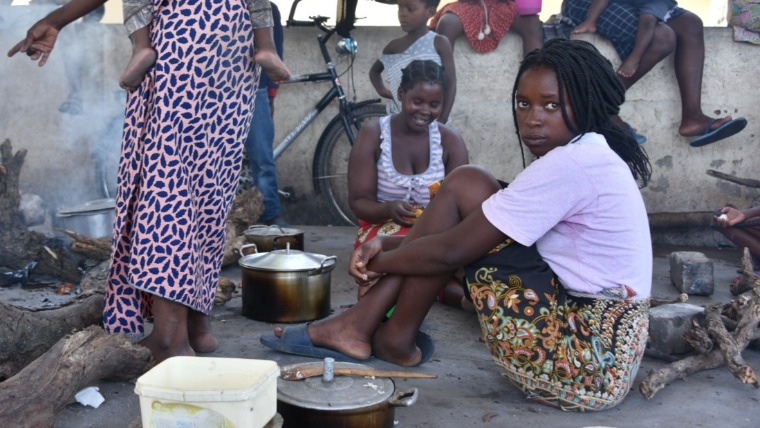 Celina, 14, remembers the night Cyclone Idai struck her city of Beira as one of terror:
I was scared and confused. I have never heard anything like that. The wind was so strong. The electrical wires on the poles in the road started sparking. A eucalyptus tree fell onto our neighbour's house and then hit ours and then the roof was blown away," she said. "We live by the seafront and the waves came into the house and took everything away. I am in grade seven and I lost everything, my school bag, my exercise books and my uniform. A lot of people in our neighbourhood were killed or taken to hospital.
- Celina, 14
HOW CAN YOU HELP?
Donate
You can still give to the Cyclone Idai Appeal to help the most vulnerable children recover from the impacts of this unprecedented natural disaster
Join us in prayer
For those affected by the Cyclone Idai and flooding, many of whom are still searching for missing loved ones.
For those who are in desperate need of the most basic supplies and protection. There is a strong need for water, food and shelter.
Almighty Father, we ask that you show mercy on those affected by the cyclone and floods. May you protect and guide emergency responders and aid workers in the remote and devastated areas as relief efforts continue.
STORIES AND BLOGS
Thursday 25, Apr, 2019
Aid agencies in Mozambique, including World Vision, are on stand-by to respond to a potentially lethal cyclone – the second to h…
Thursday 28, Mar, 2019
Paulito and his family survived Cyclone Idai. Now they face major concerns for their future.
Wednesday 27, Mar, 2019
Adelino has a beautiful smile, but when he speaks of Cyclone Idai which ripped apart his community - his world - his eyes betray…