UK Poll: Coronavirus must be stamped out around world before life can return to normal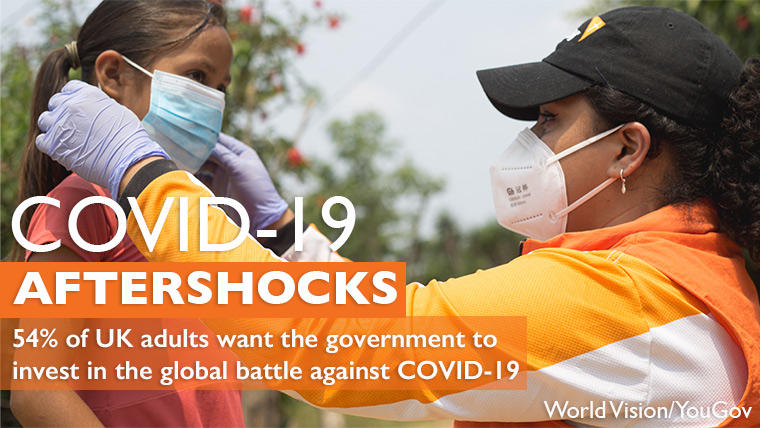 Over four in five UK adults (84%) believe life will not return to normal unless Covid-19 is controlled all over the world, a new poll finds.
The YouGov survey, for aid agency World Vision, found three in four adults (77%) are worried about a second wave of coronavirus hitting the UK in the next six months. It also found most adults (54%) believe the government should increase overseas aid spend to combat COVID-19. Only one in three (36%) believe this would be unacceptable.
A UN appeal to tackle coronavirus in poor and conflict-riven countries is still only 20% funded – leaving a shocking $6.5bn shortfall. World Vision warns underfunding could lead to deadly waves of Covid-19 sweeping the world for the foreseeable future. Since the UN appeal launched on 17 July the world has seen another 13 million cases – half of all notified cases since the pandemic began. Over a quarter of million more people have died of the disease.
The world is facing its worst crisis for generations. Yet the global fight against coronavirus is woefully underfunded. All of our lives have been turned upside down by the pandemic. But the world's poorest are hit hardest by lockdowns, barriers to education, economic recessions, and struggling health systems.
- Gareth Wallace, World Vision UK head of policy
A new World Vision report warns that a second, deadlier COVID-19 wave could kill 1.6 million people unless leaders prioritise vulnerable people everywhere. It recommends governments and organisations take urgent steps to prevent and contain new outbreaks and protect vulnerable children and communities. These include measures to:
mitigate the negative impacts of lockdowns by providing nutritious food, cash and vouchers and protection systems for vulnerable children and women.
ensure the continuity of the supply chain for essential commodities and services, preposition food, cash and medical supplies as close to affected populations as possible.
fully fund the UN Global Humanitarian Response Plan as well as funding humanitarian operations through country and response-specific appeals.
The report urges the global community to learn the lessons from the devastation caused by HIV, Ebola and other viruses. Many poorer countries will inevitably require massive investment to address the social and economic fallout from COVID-19.
Wallace says: "Our survey shows that most people in the UK want the government to increase aid spending to tackle the global coronavirus pandemic, not reduce it. They are worried about new waves of covid-19 and they know that coronavirus must be stamped out around the world before life can return to normal in the UK.
"A coronavirus outbreak in any part of the world puts us all in danger. If the disease is not eradicated, it will pose a perpetual threat to the world's poorest people and those living in wealthy countries alike. Defeating it depends on reaching the most vulnerable communities in every country.
"We welcome this week's £119m pledge from the Foreign, Commonwealth and Development Office to protect some of the world's poorest people from coronavirus and famine. The FCDO must scale up support for countries weakened by humanitarian crises and strengthen their health, care and other systems to respond to the pandemic. It should prioritise funding to help prevent and contain outbreaks in overcrowded slums, refugee camps and conflict and disaster zones. We're not safe anywhere until the virus is under control everywhere."
The foreign secretary's speech today reinforced the government's broken promises on overseas aid and its failure to stand with the world's poor at a time of global crisis.
The Government has today broken its promise to the world's poor by cutting back support at a time when more is needed.
Violence seen and experienced by children has surged worldwide during the COVID-19 pandemic, new research by international aid agency World Vision has found.
Coronavirus has brought significant challenges to the UK's economy, but cutting  the aid budget – which will be devastating for the world's poorest and most vulnerable – is not the solution.