YOOX celebrates 20th anniversary with #ShareTheLove fundraiser for World Vision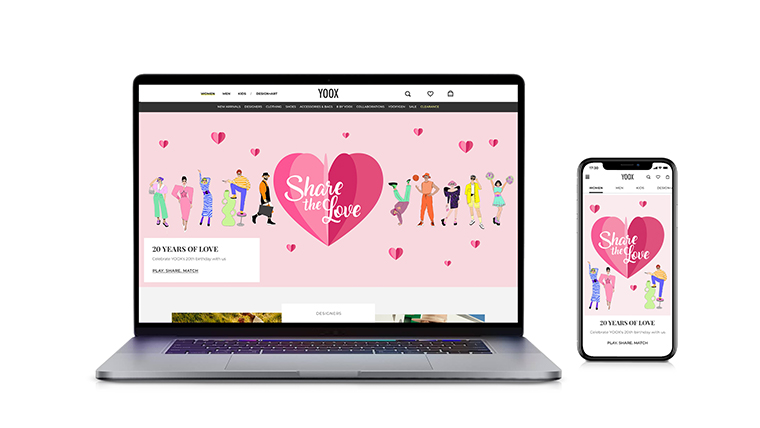 YOOX, the world's leading online lifestyle store for fashion, design and art, is marking its 20th anniversary with a donation to World Vision.
This gift is made possible via an innovative Instagram challenge, part of YOOX' anniversary campaign – #ShareTheLove.
The social media initiative – running until 29 June – aims to bring people together and celebrate true community spirit.
YOOX will donate €1 to World Vision UK for every person who shares a message of love with their Instagram followers via a special YOOX Instagram filter. To get involved:
Click on 'your story' and search 'yoox' to download the filter
Take a photo or film your Instagram story using one of the YOOX filters
Share your Instagram story, tagging @yoox and @worldvisionuk, and using only the hashtag #ShareThe Love
Finally, tag your friends
Thank you to YOOX and to all who are taking part in #ShareTheLove. It is a wonderful community initiative to bring people together at this difficult time. Now, more than ever, it is essential that we come together to help protect the most vulnerable children and their communities around the world.
- Mark Sheard, Chief Executive Officer, World Vision UK
World Vision works alongside communities in almost 100 countries to bring hope to children and communities in some of the world's poorest and most dangerous places. Our experience since 1950 has shown that, by bringing together people, we can improve children's health, education, water, protection and sources of family income to build brighter futures.
World Vision works on long-term community development projects and provide life-saving support – including food, clean water, healthcare and safe places for children to play – to those most in need.
The foreign secretary's speech today reinforced the government's broken promises on overseas aid and its failure to stand with the world's poor at a time of global crisis.
The Government has today broken its promise to the world's poor by cutting back support at a time when more is needed.
Violence seen and experienced by children has surged worldwide during the COVID-19 pandemic, new research by international aid agency World Vision has found.
Coronavirus has brought significant challenges to the UK's economy, but cutting  the aid budget – which will be devastating for the world's poorest and most vulnerable – is not the solution.