World Vision joins DEC appeal to combat coronavirus in world's most fragile places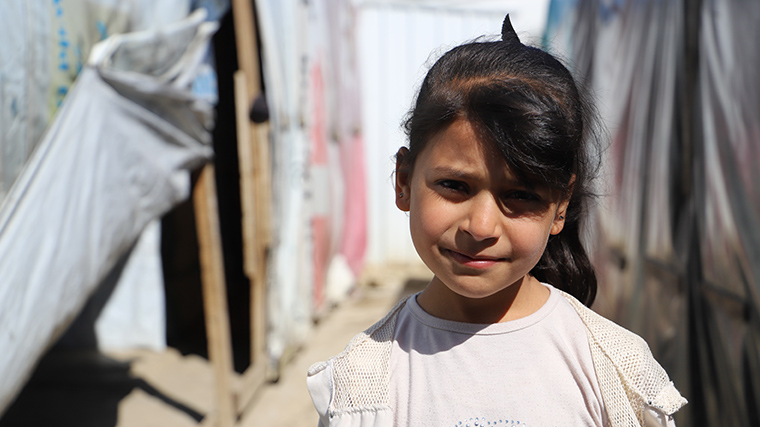 World Vision UK has joined an emergency DEC coronavirus appeal backed by 14 of Britain's leading aid agencies.
The members of the DEC (Disaster Emergency Committee) launched the appeal today to raise vital funds to help the most vulnerable communities in the world. Money raised will be used to support people fleeing from conflict and instability who now face the new deadly threat of Covid-19.
The DEC Appeal aims to protect people from the virus in the world's five most fragile states, plus Afghanistan, the most fragile state in Asia, and the world's largest refugee camp, in Cox's Bazar, Bangladesh.
The UK-wide appeal is being driven by urgent humanitarian need - but also by "good sense", Alexander Matteou, Executive Director of International at British Red Cross, told journalists at the appeal's press launch on Tuesday.
We're not safe until we're all safe," he said. "The world is interconnected. We need to help each other in this time of need."
Saleh Saeed, DEC Chief Executive, said that countries such as Yemen, Syria, Somalia and South Sudan have been weakened by years of war and instability and now face a "new, deadly, silent threat".
In Yemen – where 50 per cent of health services have been destroyed – the World Health Organization says 1 in 4 people who are contracting Covid-19 are dying.
He added: "Here in the UK, we've witnessed great suffering and made unprecedented sacrifices to protect each other and save lives.  We have seen too the tireless dedication of staff in our amazing NHS.
"But,  imagine living in one of the world's most fragile states – where there is  no NHS – and no other safety nets for the very poorest and most vulnerable.  Families  who have been forced to flee conflict, drought  and floods – living in crowded refugee and displacement camps – with little access to clean water, medical care or enough food – now face a new, deadly and silent threat: Covid-19."
It is the first time that the DEC has launched an appeal for a disaster that has simultaneously affected both the UK and internationally. The DEC, which appeals for funds in response to overseas humanitarian crises, will help the most vulnerable people in six fragile states: Yemen and Syria; Somalia, South Sudan and the Democratic Republic of Congo; and Afghanistan, where a total of 24 million displaced people live in crowded temporary shelter.
The appeal also includes the Rohingya refugee camps in Bangladesh, which are one and a half times the population density of New York City – but with nothing like the equivalent health facilities or sanitation.
The coronavirus pandemic is a crisis on a scale we've never seen before, having a devastating impact on people living all over the world. But it could be catastrophic for families already living in – or who have been forced to flee – places ripped apart by conflict, violence and hunger. The severity of the outbreak will be amplified in these areas already suffering from a lethal cocktail of disasters.
These families are the most vulnerable. This deadly virus and its impacts could leave millions of children poorer, hungrier, less educated and exposed to abuses like child marriage and sexual exploitation. DEC agencies including World Vision are already on the ground working around the clock, but there is more to be done. We desperately need more money to make sure we can reach all those most in need, before it's too late.
- Mark Bulpitt, Head of Humanitarian and Emergency Affairs at World Vision UK
The 14 DEC member charities are already present and working in refugee and displacement camps, despite the many challenges presented by the pandemic. But they urgently need more funds to scale up their operations and save lives.
The BBC, ITV, Channel 4, Channel 5 and Sky  will be broadcasting appeals in support of DEC fundraising. 
Every pound donated by the UK public will be matched by the UK government through its Aid Match scheme up to the value of £5 million. This  support will double the impact of the public's own donations and will ensure that charities working on the ground can reach more of the world's most vulnerable people as they face the coronavirus pandemic. 
Hillsong UK youth & teenage Syrian refugee discuss their past and hopes for the future
As millions of children remain out of school around the world, World Vision UK today launches its "Empty Classrooms, Broken Futures" campaign.
Over half a million children are at risk of child labour and child marriage as their families struggle six months on from the Beirut blast, World Vision warns today.
Ending violence against children remains alarmingly underfunded, despite one billion children experiencing violence each year, according to a new report.