World Vision ready to respond to devastating Mozambique cyclone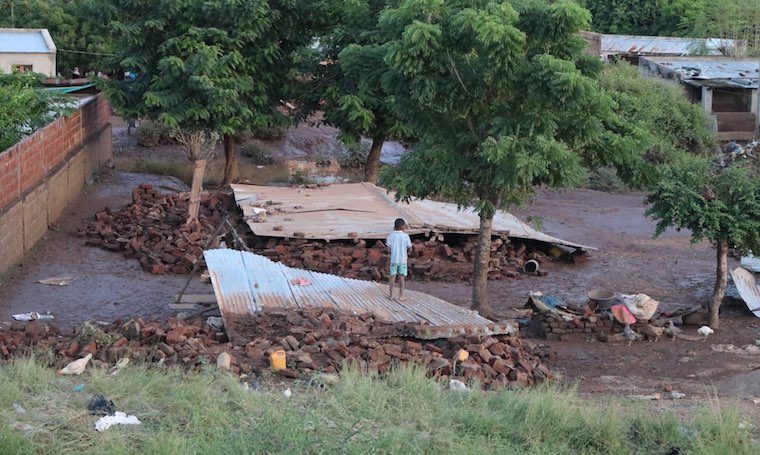 Emergency supplies have been rushed to Mozambique, where World Vision is preparing to respond to devastating Cyclone Idai.
At least 21 people have been confirmed dead, and more than 70 wounded, according to OCHA. This is in addition to at least 70 people killed due to flooding prior to the storm's arrival on Thursday. The death toll has also reached dozens in neighbouring Zimbabwe.
Houses, healthcare units and schools in Mozambique have been destroyed, while severe damage to crops has also been reported.
World Vision emergency teams are assessing the damage, and are ready to respond. The charity plans to reach 150,000 people across four provinces with food, shelter and child protection.
World Vision Mozambique National Director, Wagner Herrman said: "The country is still recovering from the devastating El Nino-induced drought. The floods and cyclone's impact will set back most of our work. Funds are urgently needed to help those affected, including thousands of children."
Reports of new cases of Ebola in north-western DRC confirm World Vision's greatest fear: that the country is contending with yet another outbreak in a new province – Equatoria.
Cyclone Amphan is creating crisis on top of a crisis – making it even more difficult to contain COVID-19 at a critical time in the response by both India and Bangladesh, World Vision warns.
Up to 85 million more children face physical, sexual and emotional violence at home and in their communities over the next three months, as COVID-19 spreads worldwide.
World Vision has dramatically scaled up its emergency response to the COVID-19 pandemic, as the virus continues to spread rapidly around the world.