World Vision aid worker wins prestigious 'Humanitarian of the Year' award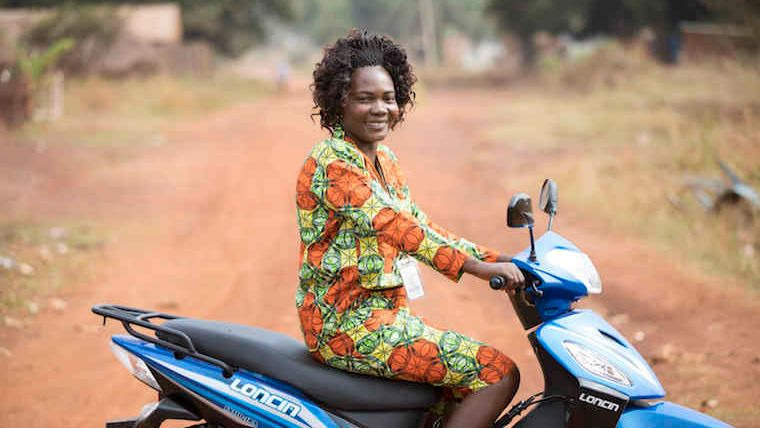 Christine Ngbaazande from Yambio has been awarded a coveted humanitarian honour at the Bond International Development Awards in London.
Christine was nominated for her work with World Vision South Sudan inspiring activism for the rights and respect of women and children in her community. She began working in 2016 to break stigma experienced by survivors of sexual violence and children born of rape in Yambio, training faith leaders, women's groups and youth leaders to become local advocates for social acceptance, openness and encouragement. Christine trained more than 50 local advocates, who together were able to change attitudes and behaviours, increasing social acceptance of survivors of sexual violence.
Christine was herself forced to flee South Sudan as a refugee to the DRC in 1990 when she was just 13 years old. This personal experience helped to shape her desire to become a humanitarian.
Winning this award means the world to me as a humanitarian – it has given me another kick of inspiration to keep doing what I do. And it's not just about me, of course – this award gives hope to girls and women all over South Sudan, as we rise from the shadows of conflict. The people of my country have been through so much over the years, but thanks to those I have the privilege of working with and for every single day, I have real hope for the future.
- Christine Ngbaazande, speaking from her home in Yambio
The Bond International Development Awards 2019 celebrate the exceptional work undertaken by people like Christine that often goes unrecognised. The Humanitarian Award specifically honors the hidden heroes working in demanding and often dangerous environments.
Erica Hall from World Vision UK, says: "Christine has and will continue to make a lasting impact on her community in Yambio, South Sudan – through her work directly to change attitudes and help communities accept those who have experienced horrific human rights violations, but also as a role model to her community."
Christine was shortlisted alongside five other finalists from Tanzania, Mali, Nigeria, Nepal and a fellow humanitarian from South Sudan. She collected her award at a prestigious ceremony on March 18 in London.
Mike Wright, Director of Communications at Bond, says: "Each year we are delighted and humbled by the winner of this award. It is a great reflection of the hard work that goes on, often behind the scenes, by so many dedicated and innovative people. It is a genuine pleasure to be honoring Christine and shining a light on the inspirational work she is doing."
Children in countries affected by emergencies such as those Christine supports are the subject of World Vision UK's campaign It Takes A World. The charity is campaigning for the UK government to increase the amount of humanitarian aid it spends on keeping children safe from violence from 2.5 per cent to 10 per cent. This could help fund many more amazing workers like Christine to help protect children in emergency-hit countries.
Join the almost 35,000 people who've signed our petition here.
As millions of children remain out of school around the world, World Vision UK today launches its "Empty Classrooms, Broken Futures" campaign.
Over half a million children are at risk of child labour and child marriage as their families struggle six months on from the Beirut blast, World Vision warns today.
Ending violence against children remains alarmingly underfunded, despite one billion children experiencing violence each year, according to a new report.
International aid agency, World Vision, has appealed to donors for US$10 million in additional funding, as it launched its humanitarian response to the crisis in the conflict-affected Tigray region of Ethiopia.