World Vision preparing for potential 'catastrophic' Ebola outbreak across East Africa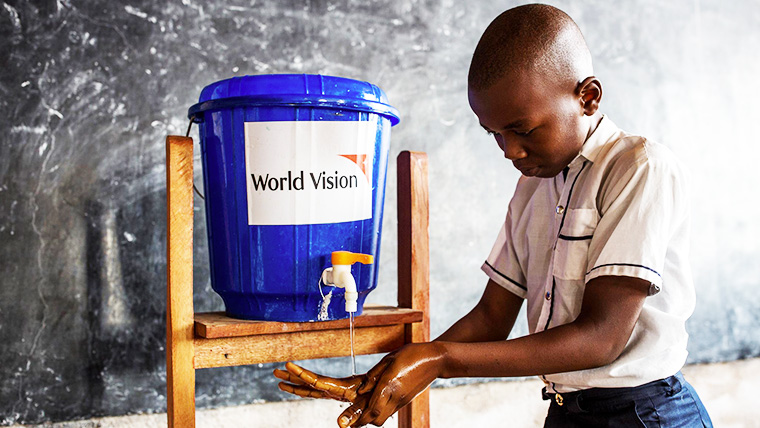 World Vision has mobilised staff across East Africa to prepare for any further spread of the deadly Ebola virus from an outbreak in the Democratic Republic of Congo (DRC).
This week, it was announced that a young Congolese boy and his grandmother had died of Ebola in neighbouring Uganda.
We are heavily involved in the response in the DRC, and we intend to use World Vision's history of responding to major Ebola outbreaks to support communities wherever they face this fearsome disease.
The tragic death of a five year old child and his grandmother in Uganda reminds us that Ebola does not respect borders – and where there are migrants and refugees, the risk of transmission is greatest.
- Stephen Omollo, World Vision's East Africa regional leader
World Vision staff in Uganda are working with communities on detection and prevention of the disease, and the necessary precautions to prevent its spread.
Other countries which share a border with the DRC – including Rwanda, Burundi and Tanzania – are also on alert.
World Vision's office in South Sudan has been commissioned by the Ministry of Health to lead the Ebola response in Western Equatoria State, on the border with the DRC. Staff are focused on screening arrivals at the border, and with surveillance, management of isolation units and supporting frontline health workers.
"We have reached more than 600,000 people with messages on how to recognise the symptoms of Ebola and prevent its spread, and nearly 300,000 individuals have been screened through border health points," said Dr Henry Ilunga, health and nutrition specialist at World Vision in South Sudan.
"We have 100 health workers involved in our Ebola response but there is still more to do. The big challenge we face in South Sudan and across the region is funding. But imagine the costs if it does spread here and we are unprepared."
There are huge numbers of refugees moving across borders in this region and we face serious health, hygiene and nutrition challenges. An Ebola outbreak will be catastrophic.
- Dr Henry Ilunga, health and nutrition specialist at World Vision in South Sudan
World Vision was a significant partner in the World Health Organisation-led response to an outbreak of Ebola in Gulu, northern Uganda, at the start of the millennium. As a Christian charity, it also took a lead role in mobilising faith leaders and other community groups to tackle the largest-ever Ebola outbreak in West Africa in 2014. That intervention is credited with transforming a negative and hostile community reaction to efforts to tackle Ebola into one which helped bring the epidemic under control.
"When people feel vulnerable, desperate, and confused, they are often willing to act on any available recommendation, good or bad," said Dan Irvine, World Vision's global director of sustainable health.
"We know that effective public health messaging must be contextualised, and local leaders of social and faith communities are critical in that. Faith leaders, especially, can be our most effective champions of positive epidemic response communications, when we help them to understand the issues and translate the key messages."
World Vision staff are working with and through faith leaders in the DRC, both in person and on local radio stations, to help communities understand the Ebola outbreak and how to keep themselves safe from it.
"News of an Ebola case in Uganda confirms our greatest fear: that the deadly virus has spread across borders," said Dr Agoustou Gomis, World Vision's Ebola Virus Disease project coordinator in the DRC.
"This outbreak is the second largest in history and is showing no sign of slowing down. Ebola has already claimed the lives of over 1,300 people in the DRC - this could soon become an even greater catastrophe with other neighbouring countries like Rwanda at risk."
Millions of children and families face a looming threat from the disease that is, so far, not matched by international resources to prevent its spread.
Cyclone Amphan is creating crisis on top of a crisis – making it even more difficult to contain COVID-19 at a critical time in the response by both India and Bangladesh, World Vision warns.
Up to 85 million more children face physical, sexual and emotional violence at home and in their communities over the next three months, as COVID-19 spreads worldwide.
World Vision has dramatically scaled up its emergency response to the COVID-19 pandemic, as the virus continues to spread rapidly around the world.
International aid agency World Vision has launched a £64m aid plan to help millions of the world's most vulnerable people defeat coronavirus.