Idlib crisis: Thousands of pregnant women and babies at risk as they flee deadly violence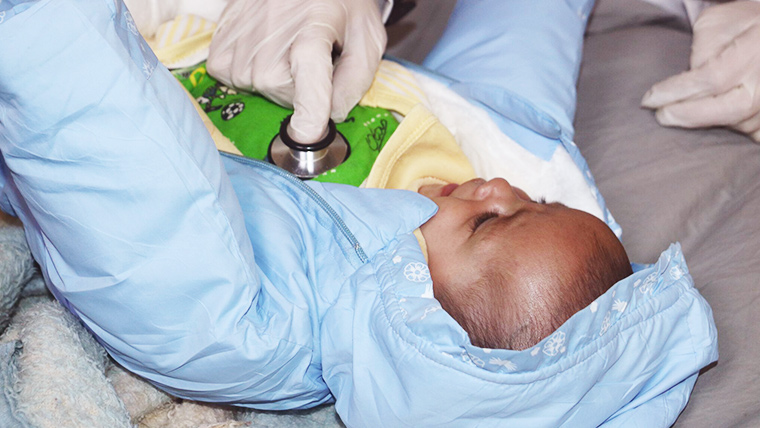 Thousands of pregnant women, vulnerable infants and young children are fleeing the bombardment of Idlib in north-western Syria, World Vision warns today.
A new needs assessment from the aid agency's partners in Idlib reveals that pregnant women are among one in every three displaced families interviewed. Half of families (51 per cent) included a breastfeeding woman and young child.
Hundreds of thousands of people have fled the fighting and many are now living in overcrowded informal camps, shelters and open fields, without proper healthcare, clean water or shelter. There have been numerous reports of women giving birth outside under the trees, and newborns are spending their first days without protection from the elements.
It's hard to imagine the trauma, distress and physical toll that the flight from air strikes and bombs has on families in Idlib. And it's even worse for pregnant women and those with babies and young children.
Pregnant and breastfeeding women, alongside children, are some of the most vulnerable in crises like this. Without access to healthcare or sanitation facilities, their chances of delivering a healthy baby and keeping that child safe and well are significantly reduced. Women and children urgently need access to healthcare and clean, protected shelters.
- Mays Nawayseh, Protection Adviser for Syria at World Vision
Intensive air strikes and artillery bombardments in Idlib have already displaced more than 330,000 people – at least half of them children. The UN warned on 18 June that at least 230 civilians, including 69 women and 81 children, have been killed in the conflict in the last six weeks. Mark Lowcock, the UN's humanitarian chief, told the Security Council that the world is facing "a humanitarian disaster unfolding before our eyes."
Children in Idlib are experiencing unimaginable terror – with the threat of death a reality every single day. Even those who have managed to escape the violence are living in inhumane conditions, many without even a simple shelter to protect them.
We call for an urgent ceasefire, and for all parties to the conflict to protect civilians, particularly children who remain trapped in frontline areas.
- Caroline Anning, Syria Advocacy Director at World Vision
Most of the people forced to flee are moving to areas in the north of Idlib governorate, which are already densely populated and host large numbers of previously displaced families. World Vision is responding through partners on the ground, distributing dignity kits and deploying mobile medical units.
However, aid agencies risk being overwhelmed with thousands of people sleeping outdoors without proper shelter or sanitation, women giving birth without medical assistance and the threat of disease spreading in crowded camps. One medical facility supported by World Vision close to the border has seen an increase in patients of 70 per cent in the last month and children are sleeping on the floors.
Almost half of families World Vision's partners spoke to (49 per cent) said they had children under five years old who had contracted diarrhea, which can be deadly in young children. Nine in ten families said they didn't have enough space, while the same proportion said what shelter they had offered very poor protection.
The emergency response is under-funded, and World Vision is urging the international community to increase its support. The charity has also called on world leaders to step up efforts to work with parties to the conflict to find a political solution to the deadly violence and ensure civilians are protected.
Hillsong UK youth & teenage Syrian refugee discuss their past and hopes for the future
As millions of children remain out of school around the world, World Vision UK today launches its "Empty Classrooms, Broken Futures" campaign.
Over half a million children are at risk of child labour and child marriage as their families struggle six months on from the Beirut blast, World Vision warns today.
Ending violence against children remains alarmingly underfunded, despite one billion children experiencing violence each year, according to a new report.