Actor Jerome Flynn among thousands urging UK government to help 'forgotten' children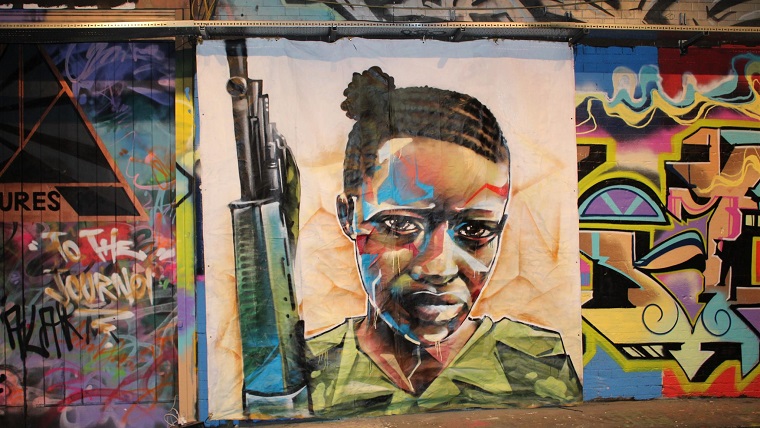 Game of Thrones actor Jerome Flynn has signed a petition in support of a charity's campaign to end violence against children in emergencies.
The petition, launched by World Vision UK, is calling for a fourfold increase in the proportion of UK humanitarian aid spending to protect children from violence.
The call comes after the organisation unveiled a harrowing graffiti mural depicting a child soldier in London Waterloo's iconic graffiti tunnel last night. The event was part of the charity's new campaign, It Takes A World.
More than 1 billion children around the world face unspeakable violence every day. I signed the petition because I think governments should do more to protect them.
No child should be forced into war. No childhood should end on a battlefield. Children should be free to play, learn and enjoy the pleasures of growing up.
- Jerome Flynn, Game of Thrones actor
World Vision is aiming to get 50,000 signatures by next June, to show the UK government that the public is concerned about child protection in some of the most dangerous countries. Earlier this month, the organisation revealed the UK government spends only 2.5 per cent of its humanitarian budget to protect children in emergencies. World Vision wants this to increase to at least 10 per cent. It is also urging the government to start tracking its humanitarian spending on ending violence against children.
Rhian Beynon, Campaign Manager at World Vision UK, said: "Millions of children are trapped in conflicts and other emergencies around the world. They need protecting from violence as much as they need shelter, food and other basic necessities.
"Yet the UK government – a leading aid donor – spends a relatively small amount of its aid budget to protect them. Some countries where children are at the most vulnerable receive no funds for child protection.
"By signing the petition, people can send a powerful message to the government that they want the UK to commit more than £100 million to protect children. The UK government also needs to ensure money reaches the places where children are most at risk of violence."
A World Vision UK-commissioned investigation showed, earlier this month, that some of the world's most dangerous countries received no humanitarian funding to protect children in the past. Countries include the Democratic Republic of Congo, Iraq and Somalia, where the sexual and physical exploitation of children and their recruitment to armed groups are rife.
Last year the United Nations documented almost 10,000 cases of children recruited into armies and militias around the world.2 However, the true number could be in the hundreds of thousands. The disruption of war makes it impossible to count every child soldier, and most remain invisible.
Child recruitment into armed groups is soaring in some countries. The number of cases verified by the UN last year quadrupled in the Central African Republic and doubled in the Democratic Republic of Congo (DRC) compared to 2016.
Children in conflicts are persecuted, subjected to sexual violence and forced to commit atrocities. These are the world's forgotten children in the world's forgotten countries. They desperately need our support to keep safe from violence.
- Rhian Beynon, Campaign Manager at World Vision UK
World Vision works with children recovering from extreme violence in some of the world's most dangerous countries. One programme in the Democratic Republic of Congo offers therapy and skills training so child soldiers can go home and rebuild their lives. Another project in Uganda provides safe places and peace clubs for children who have fled from a conflict raging in neighbouring South Sudan.
Find out how to support the campaign here.
Hillsong UK youth & teenage Syrian refugee discuss their past and hopes for the future
As millions of children remain out of school around the world, World Vision UK today launches its "Empty Classrooms, Broken Futures" campaign.
Over half a million children are at risk of child labour and child marriage as their families struggle six months on from the Beirut blast, World Vision warns today.
Ending violence against children remains alarmingly underfunded, despite one billion children experiencing violence each year, according to a new report.