World Vision announces emergency response to devastating earthquake in Indonesia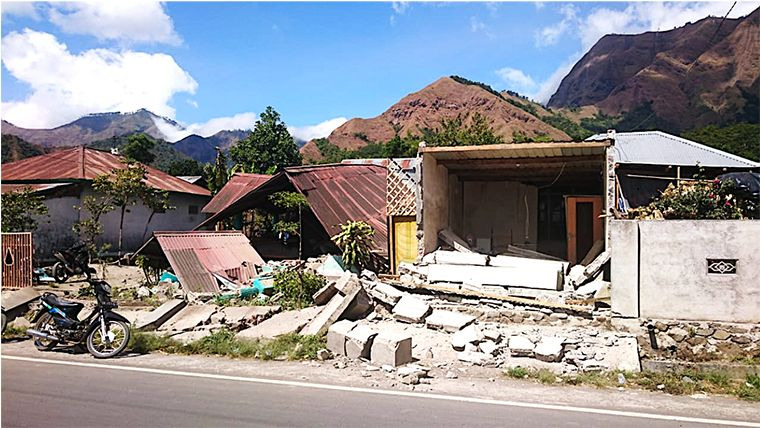 International aid agency World Vision is responding to a powerful 7-magnitude earthquake which struck Indonesia's Lombok Island on Sunday, killing 98 people and displacing thousands.
International aid agency World Vision is already on the ground conducting an emergency response.
The number of causalities has risen to 98 people, and more than 200 are injured. Many people have been forced to flee their homes because of the numerous aftershocks.
World Vision has already got equipped and trained staff in the field conducing initial assessments to identify the immediate needs of the affected displaced children and their families. We will continue to mobilise the response with local partners and plan to focus on child protection, clean water, sanitation and hygiene and making sure children have access to education in the aftermath of the crisis.
- Margaretha Siregar, Humanitarian and Emergency Affairs Director at World Vision Indonesia.
The earthquake struck on Sunday (August 5) at 6.46pm local time at a depth of 15 kilometres, according to The Indonesian Meteorological, Climatological and Geophysical Agency.
Approximately one million people live near the epicentre and there have been more than 100 aftershocks. Indonesia's National Disaster Mitigation Agency has stated that the number of victims is expected to increase.
The earthquake is the second to strike the region in recent days. A 6.4 magnitude earthquake struck Lombok Island on July 29, killing 16 people and injuring hundreds more.
Sunday's earthquake was felt in Bali, Sumbawa and Surabaya. The overall impact is still under assessment.
World Vision Indonesia was already conducting an emergency response to the first earthquake in Lombok and is on the ground responding to the immediate needs of people affected by yesterday's disaster.
Education and income-generating opportunities must be made top priorities for the nearly 1 million Rohingya still languishing in the world's largest refugee camp.
Slashing the aid budget, as a new report from the Henry Jackson Society suggests, would have a shattering effect on the world's most vulnerable children and their families.
14 aid agencies have joined together to raise awareness of the terrible suffering of the people of Yemen.
Leaders of faith-based international development agencies have united to call on churches and mosques to pray for the desperate humanitarian situation in Yemen this week.