World Vision joins DEC emergency appeal for people fleeing Myanmar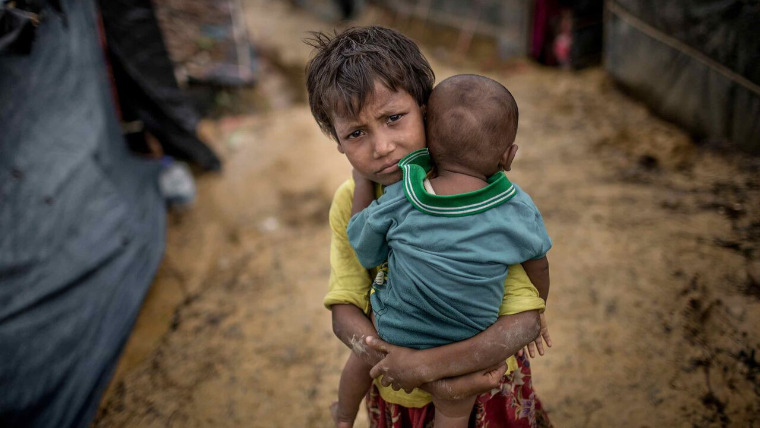 World Vision and other leading UK aid agencies today announced a joint fundraising appeal to help the hundreds of thousands of people fleeing their homes in Myanmar who are in urgent need of shelter, medical care, water and food.
In recent weeks, more than half a million people have sought refuge in Bangladesh from violence in Myanmar's Rakhine state. The majority of them are women and children who identify as Rohingya.
The thirteen DEC member charities have come together to call for funds to respond to the severe humanitarian needs of those affected. Money raised will support their efforts to reach people fleeing Myanmar as well as their host communities in Bangladesh.
More than half of all new arrivals are children and one in every ten are pregnant or lactating mothers. The vast majority are living in makeshift shelters made from bamboo and thin plastic.
The DEC Emergency Appeal is launching today and will be shown on all major UK broadcasters including BBC, ITV, Channel 4, Channel 5 and Sky.
People are arriving exhausted and traumatised into already overcrowded camps in Bangladesh. This is one of the fastest movements of people we have seen in recent decades.
Families are living in makeshift shelters or by the side of the road with no clean drinking water, toilets or washing facilities. This humanitarian catastrophe is unfolding in a country that is already reeling from the worst floods in decades.
Without urgent support, the risk of disease and further misery is alarmingly high.
- DEC Chief Executive, Saleh Saeed
World Vision and other DEC member charities are already on the ground in Bangladesh delivering emergency aid. They are ready to scale-up their humanitarian support but they need more funding to reach people in urgent need.
To make a donation to the DEC Emergency Appeal visit www.dec.org.uk, call the 24-hour hotline on 0370 60 60 610, donate over the counter at any high street bank or post office, or send a cheque. You can also donate £5 by texting the word SUPPORT to 70000.
The UK Government will match pound for pound the first £3 million donated by the public to the DEC Emergency Appeal.
Stay up to date with developments in Bangladesh, the emergency response and the fundraising efforts with the DEC on twitter: www.twitter.com/decappeal or on Facebook via www.facebook.com/DisastersEmergencyCommittee.
Children in Idlib are experiencing terrifying bombardment and violence, with reports that dozens of children have been killed in the last two months.
World Vision has mobilised staff across East Africa to prepare for any further spread of the deadly Ebola virus from an outbreak in the Democratic Republic of Congo (DRC).
Uganda's health ministry has confirmed the country's first case of Ebola, following the ongoing outbreak in DRC which has claimed the lives of almost 1,400 people.
Cases of Ebola are escalating rapidly as the second largest outbreak in history continues to spread in eastern Democratic Republic of Congo (DRC).