World Food Day: charity food aid draws desperate families out of hiding in DR Congo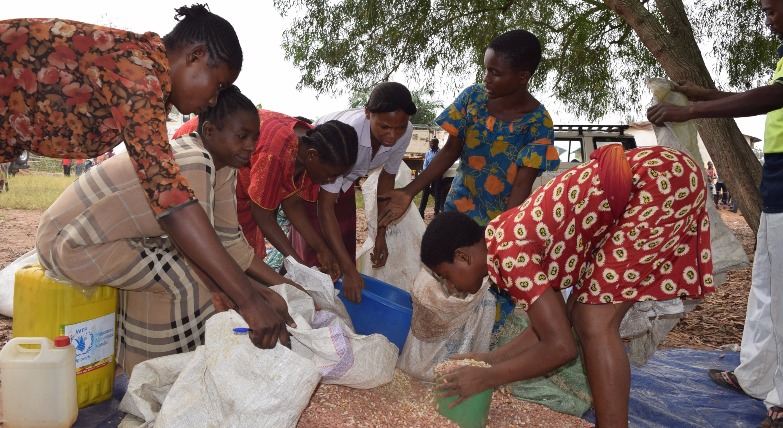 Ahead of World Food Day on 16 October, World Vision and the World Food Programme (WFP) has supported 50,000 food insecure people in the Kasais region of the Democratic Republic of Congo.
The violence in the Kasias erupted in August 2016 as a conflict between a local chieftaincy and Joseph Kabila's government, tapped into general frustration in a previously peaceful region. 1.6 million people were forced to flee their homes. And 3.2 million people are now food insecure.
Davies Bishi, World Vision Kasais Response Manager, said: "Our teams in Dibaya are seeing devastation and emaciated children. Surveys show that 95 per cent of families are in desperate need of aid."
"Over the next few months, our goal is to distribute as much food as the World Food Programme can possibly provide, and help cover the gap until families can start growing for themselves again."
In August 2017, World Vision and WFP, were the first humanitarian agencies to begin food distributions in Kasai Centrale region. To date, they have reached over 55,000 people. They plan to scale up the response to meet the needs of over 100,000 by the end of the year
When the latest fighting began, children and their families were forced to flee for their lives as militia and military ransacked village after village. Many spent months in the bush, forced to survive on foraged fruit and nuts.
13-year-old Anto, told World Vision staff, "It was really difficult when we were hiding in the forest. We weren't able to eat well."
When the food distribution started, families began to come back and trust that the situation had become more stable. It was only really then that they came of the bush.
- Modeste Bukasa, Head of Cooperative Réveil (World Vision partners)
An estimated 80-90 per cent of the population in the Kasais have returned home since August, but most are returning to burnt out homes and plundered crops. Survivors returned to find their livestock gone, and after three missed planting seasons, many have resorted to eating seed to survive.
Sarah Pickwick, World Vision UK's Senior Conflict Advisor, who has worked extensively on the DR Congo said, "The needs in the Kasai province are staggering. Months of fighting and insecurity have left thousands of children at risk of severe acute malnutrition. We need to get urgent and essential aid into the area.
World Food Day helps to shine a light on the over 815 million people who don't have enough food to eat. The involvement of the Pope, and other global leaders who will attend Monday's event, sends a positive message to the world's hungry children."
World Vision and World Food Programme will provide over £3,759,000 worth of aid to the most vulnerable families in Kasai Centrale with basic food stuffs through December, after which point the response will transition to recovery.

If you would like to help, you can give to the World Vision Emergency work fund, which will help our responses in unfolding crises such as this.
An estimated 110 million children across Asia are going hungry due to the economic impact of coronavirus, World Vision warns today.
A new study released today and conducted by Sevanta ComRes, has found that 48% of British parents are concerned about the impact of the coronavirus pandemic on the mental health and wellbeing of their children.
YOOX, the world's leading online lifestyle store for fashion, design and art, is marking its 20th anniversary with a donation to World Vision.
Millions of Syrians could starve and die if the UN Security Council does not renew this resolution allowing humanitarian organisations to deliver life-saving aid, World Vision warns.