World Food Day: charity food aid draws desperate families out of hiding in DR Congo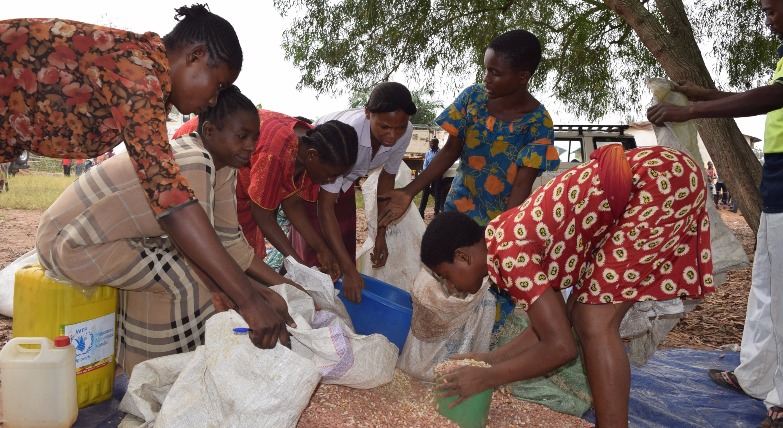 World Vision ambassador Jerome Flynn says he is 'changed forever' after hearing heart-rending stories from war-scarred children in South Sudan.
<p>
Jerome met traumatised children last month on a fact-finding trip organised by international charity World Vision. South Sudan is the world's youngest country, gaining independence in 2011. The East African country has been convulsed by a five-year long civil war which has killed at least 400,000 people. Over 19,000 children have been conscripted into various armed groups.
<p>
"Children told me about unimaginable horrors they had seen and experienced," Jerome says. "Some children were kidnapped by armed groups and forced to fight and kill and watch other children get killed for not keeping up. Others fled torched homes and villages and sought refuge in camps for displaced people, with little food and no education. Many lost mothers, fathers, brothers and sisters and were forced to make choices no child should have to make, just to survive.
<p>
"I met families torn apart because of the conflict and talked to parents who had sons and daughters snatched from them," he continued. At times I found their stories of what they had to endure almost too painful to bear.
<p>
"Yet I also saw hope in a country ripped apart by war. Dedicated World Vision aid workers are helping desperate families stitch their lives together amid the chaos. I was blown away by the resilience of the children, humbled by their spirit, and inspired by their determination to find happiness. 
<p>
"I saw how war costs children their innocence but does not always destroy their childhoods. The bravery of the children I met will stay with me forever."
<p>
Full-blown conflict is likely to flare up again in South Sudan unless a national army of government and rebel forces is formed by May 12. More children and young people could then be forced into the bush to take up arms or flee the fighting. 
<p>
Jerome says: "South Sudan's latest peace deal is on a short fuse and the situation is desperate. Help is needed urgently to protect children from further violence. Sadly, there are thousands of children across the world who need support right now. Please give generously to help them."
<p>
Jerome's trip forms part of World Vision's Made for More appeal for funds to protect the world's most vulnerable children.

Ahead of World Food Day on 16 October, World Vision and the World Food Programme (WFP) has supported 50,000 food insecure people in the Kasais region of the Democratic Republic of Congo.
The violence in the Kasias erupted in August 2016 as a conflict between a local chieftaincy and Joseph Kabila's government, tapped into general frustration in a previously peaceful region. 1.6 million people were forced to flee their homes. And 3.2 million people are now food insecure.
Davies Bishi, World Vision Kasais Response Manager, said: "Our teams in Dibaya are seeing devastation and emaciated children. Surveys show that 95 per cent of families are in desperate need of aid."
"Over the next few months, our goal is to distribute as much food as the World Food Programme can possibly provide, and help cover the gap until families can start growing for themselves again."
In August 2017, World Vision and WFP, were the first humanitarian agencies to begin food distributions in Kasai Centrale region. To date, they have reached over 55,000 people. They plan to scale up the response to meet the needs of over 100,000 by the end of the year
When the latest fighting began, children and their families were forced to flee for their lives as militia and military ransacked village after village. Many spent months in the bush, forced to survive on foraged fruit and nuts.
13-year-old Anto, told World Vision staff, "It was really difficult when we were hiding in the forest. We weren't able to eat well."
When the food distribution started, families began to come back and trust that the situation had become more stable. It was only really then that they came of the bush.
- Modeste Bukasa, Head of Cooperative Réveil (World Vision partners)
An estimated 80-90 per cent of the population in the Kasais have returned home since August, but most are returning to burnt out homes and plundered crops. Survivors returned to find their livestock gone, and after three missed planting seasons, many have resorted to eating seed to survive.
Sarah Pickwick, World Vision UK's Senior Conflict Advisor, who has worked extensively on the DR Congo said, "The needs in the Kasai province are staggering. Months of fighting and insecurity have left thousands of children at risk of severe acute malnutrition. We need to get urgent and essential aid into the area.
World Food Day helps to shine a light on the over 815 million people who don't have enough food to eat. The involvement of the Pope, and other global leaders who will attend Monday's event, sends a positive message to the world's hungry children."
World Vision and World Food Programme will provide over £3,759,000 worth of aid to the most vulnerable families in Kasai Centrale with basic food stuffs through December, after which point the response will transition to recovery.

If you would like to help, you can give to the World Vision Emergency work fund, which will help our responses in unfolding crises such as this.
Children in Idlib are experiencing terrifying bombardment and violence, with reports that dozens of children have been killed in the last two months.
World Vision has mobilised staff across East Africa to prepare for any further spread of the deadly Ebola virus from an outbreak in the Democratic Republic of Congo (DRC).
Uganda's health ministry has confirmed the country's first case of Ebola, following the ongoing outbreak in DRC which has claimed the lives of almost 1,400 people.
Cases of Ebola are escalating rapidly as the second largest outbreak in history continues to spread in eastern Democratic Republic of Congo (DRC).