Bishop of Coventry calls for the protection of women and children who have fled Myanmar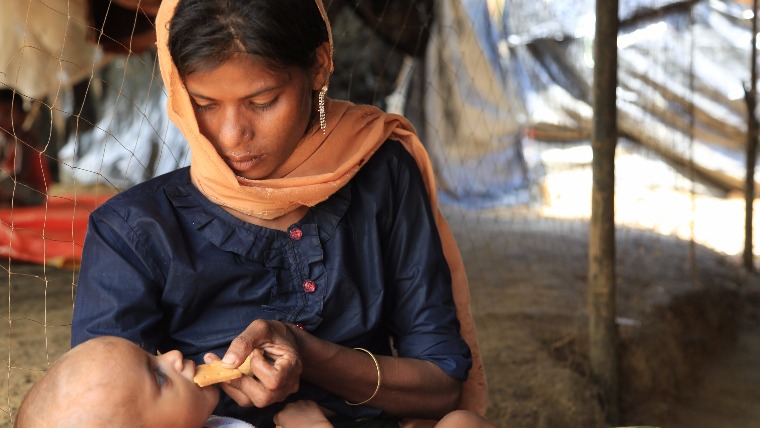 International children's charity - World Vision - has echoed calls by the Bishop of Coventry, the Right Reverend Dr Christopher Cocksworth, who yesterday petitioned the government to do more to help vulnerable women and children who have fled Myanmar
This crisis is a deep human tragedy…and we must protect women and children
- Bishop of Coventry, the Right Reverend Dr Christopher Cocksworth
The Bishop's calls come as World Vision prepares to expand its emergency response in Bangladesh. This weekend the charity will distribute tarpaulins to help families build shelters. In the coming weeks, the global children's charity will open child and women friendly spaces to support those who have experienced abuse or those at risk of violence.
Amy Johnson, World Vision UK's Political Advocacy Officer, said, "Immediate funding of child protection programming is essential to ensure children's well-being and survival during and after the crisis, but sadly it is often forgotten. We hope the Bishop's call for greater protection of vulnerable women and girls will encourage the government to lead the way on child protection in this underfunded humanitarian response."

"The new shelters we will start building from the weekend will give the refugees Child friendly spaces give children the psychosocial support they need to recover from the horrors they have witnessed.
A recent study by the International Organisation for Migration, showed that children constitute a staggering 58 per cent of all refugees that have fled to Bangladesh from Myanmar since violence broke out in August. The same study also revealed that children felt unsafe in 74 per cent of refugee sites.
World Vision staff on the ground have received reports that many of the women and children forced to flee have experienced sexual violence and they continue to be at risk of abuse in the overcrowded camps.
Margarettha Siregar, World Vision's Bangladesh Humanitarian Response Manager, said, "The authorities are doing their very best to support the huge numbers of refugees that have poured across the border, but these makeshift camps are densely populated and the needs are overwhelming."
We know from working directly with children in the camps that they have a number of competing vulnerabilities. They have seen and experienced the most brutal violence imaginable. Many are alone with no family to support them.
- Margarettha Siregar, World Vision's Bangladesh Humanitarian Response Manager
Find out how you can support our appeal for refugees from Myanmar »
As millions of children remain out of school around the world, World Vision UK today launches its "Empty Classrooms, Broken Futures" campaign.
Over half a million children are at risk of child labour and child marriage as their families struggle six months on from the Beirut blast, World Vision warns today.
Ending violence against children remains alarmingly underfunded, despite one billion children experiencing violence each year, according to a new report.
International aid agency, World Vision, has appealed to donors for US$10 million in additional funding, as it launched its humanitarian response to the crisis in the conflict-affected Tigray region of Ethiopia.