Former 'forced wife' receives Marsh Award at Tedx summit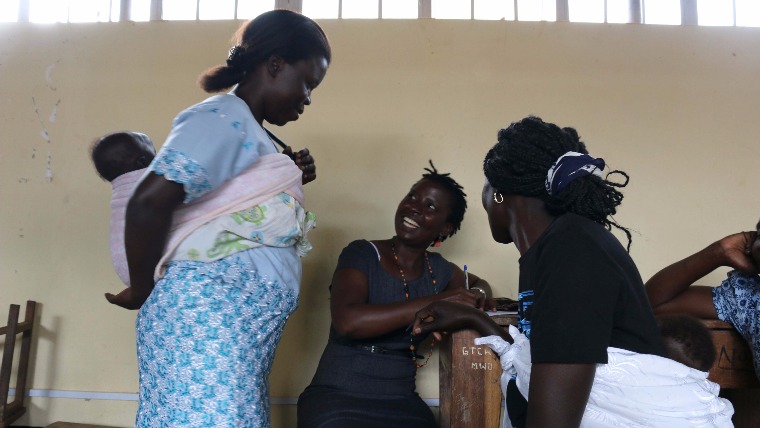 Children's charity puts 2,000 'lost teddy bears' on UK high streets, as the extreme lengths UK parents go to for children's lost toys is revealed
International children's charity World Vision will be distributing 2,000 "lost teddy bears" across the UK this week to raise awareness of lost childhoods in the world's poorest countries
Research to support the campaign found that 45 per cent of UK parents have purchased duplicates of their child's favourite toy in case it gets lost or damaged
A quarter of parents would travel over 200 miles to reclaim their child's lost toy
70 per cent would pay for the safe return of their child's toy
Two thousand "lost teddy bears" will appear on UK high streets today, to mark the launch of children's charity World Vision UK's latest campaign.
The campaign aims to raise awareness of the dangers children face in the world's poorest communities and encourage people to sponsor a child.
Each bear (named Hope) is fitted a tag on its wrist with directions on how people can help the world's most vulnerable children.
To support the launch, the charity questioned more than 1,000 UK parents to find out the extreme lengths they'd go to make sure their children are not parted from their favourite toys.
According to the research, almost half (45%) of UK parents have purchased duplicates of their child's favourite toy in case it gets lost or damaged.
The survey also found that one in four parents in Britain would be prepared to travel up to 200 MILES if their son or daughter misplaced their favourite toy.
According to the research, two thirds (70%) of parents in Britain claim that they would offer a reward for the safe return of a cherished toy, with nearly half of that number saying they would be willing to pay double the purchase price for its safe return. This is perhaps unsurprising given that 38% of those questioned said their child can NEVER go to bed without their favourite toy.
37% of mums and dads confessed to trying to appease their child by telling them a missing possession was now being looked after by the 'Toy Fairy'. 
World Vision UK Head of Brand Sally Bownes, has been leading on the campaign. She said: "This research reveals just how dearly children in the UK value their favourite toy. A lost toy can be replaced, but unfortunately a lost childhood can't. Childhood is sacred, wherever a child lives.
"Hundreds of thousands of children around the world are at risk of losing much more than a toy this Christmas. Many are in danger of becoming enslaved - coerced, forced or tricked into becoming a child labourer, a child soldier or a child bride. 
"We want people to join us this Christmas in helping make a real and lasting change for a child and their community." 
World Vision UK is encouraging the British public to raise awareness of children at risk of losing their childhoods by finding Hope the teddy bear and sharing a photo on social media using the hashtag #ShareHope.
The bears will be distributed at shopping centres, parks and various other public places across the UK this Thursday 15th November. 
For further information visit worldvision.org.uk. 
Angela Atim Lakor, a survivor of Joseph Kony's Lord's Resistance Army (LRA) and now a World Vision partner, this week returns to London where she will be honoured for her contribution to building peace, tackling stigma and supporting women and children recovering from war.
Angela will present a Tedx Talk on her experience of war as a child as part of this year's Whitehall Women event at HMS President in London on Friday 3 November. As part of the event Angela will also receive the Marsh Award for Peace-making and Peace building from the prestigious Wilton Park. She shares the award with fellow human rights campaigner Ms. Fareeda Abbas Rasho Khalaf, a member of the Yazda Yazidi women's organization.
The infamous LRA militia abducted Angela when she was only 14. She endured sexual violence as part of the LRA's 'forced wives' system for many years. On escaping, Angela was supported at the World Vision Children of War Reintegration Centre in Gulu, Uganda. As a survivor herself she went on to co-found the Watye Ki Gen charity which supports female returnees from the Lord's Resistance Army and their children - helping them combat the stigma that affects every area of their lives from employment to their children's education.
World Vision's Children of War Reintegration Centre has helped rehabilitate and reintegrate nearly 15,000 former child soldiers and children born in captivity in the past decade.
Erica Hall, World Vision UK's Technical Policy Lead on Child Protection, said, "Children are vulnerable in the face of conflict. Recent UN figures show that there were at least 14,500 grave violations against children in armed conflict last year, including recruitment, sexual violence and abductions."
Freezing temperatures, rain and snow have exacerbated already dire conditions in Lebanon's refugee camps, leaving an estimated 70,000 Syrians at risk.
Aid agency World Vision UK has launched an appeal to raise funds following Indonesia's deadly tsunami, which has killed at least 281 people.
Aid agency World Vision has rushed an emergency crew to the area hit by Indonesia's deadly tsunami, which has killed at least 222 people.
A four-year programme to eradicate child slavery in three African countries launches today, International Day for the Abolition of Slavery (December 2).