Brussels Conference: World Vision welcomes progress, but urges protection for Syrian children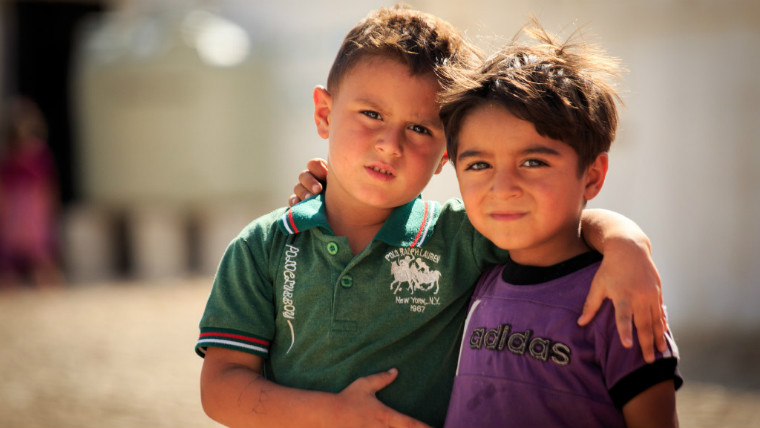 International children's charity World Vision has today urged for concrete action to protect Syria's children following a major international conference with world leaders in Brussels.
Justin Byworth, Executive Director of World Vision Brussels, said: "World Vision welcomes the $6 billion pledged by donors for humanitarian assistance this year for the 13 million Syrians in need of assistance. This is no small achievement in the face of growing emergency needs worldwide but concrete actions by all involved in the conflict must now follow so that this assistance can reach the 5 million Syrians in besieged and hard to reach areas.
"The conference's recognition that the protection of civilians remains paramount is vital as is the continued commitment to support refugees and to education to prevent a lost generation of Syrian children. The only real solution for Syria's children though is peace. Immense political boldness and stamina will be needed to make real strides towards peace."
World Vision has also warned that the recruitment of children as young as 7 into armed groups is rising in war-torn Syria. Children were among the dead in a suspected chemical attack in the Idlib province of Syria on April 4 that killed more than 70 people and left hundreds in need of medical treatment.
Christine Latif, World Vision's Response Manager for Northern Syria and Turkey, said: "As a humanitarian organisation, we cannot bring peace to Syria but will continue to advocate for it. We can and will continue to combat the effects of violence on Syrian girls and boys by providing education, child protection, food and cash assistance, water, sanitation, health, and winter supplies. World Vision will continue to be a voice for Syria's children, speaking out and praying for peace."
The largest number of grave violations against children in all six years of the Syrian conflict was recorded in 2016. In October and November 2016 alone, children accounted for more than 20 per cent of all civilian deaths in Syria. 750 violations against children were recorded in the first six months of 2016 – maiming, killing and recruitment and use of children as soldiers were the most common offences and were committed by all parties to the conflict.
At least 3.7 million Syrian children have known nothing but war and 5.8 million children inside Syria are in need of protection.
In a recent survey, 50 per cent of Syrian children told World Vision they dreamed of peace and returning home to Syria.
"I love Syria, but at the moment, I wouldn't feel safe there," said 9-year-old Dalal, now living in a host community in Jordan. "When I was in Syria I feared the airstrikes and the gun-shots."
A new study released today and conducted by Sevanta ComRes, has found that 48% of British parents are concerned about the impact of the coronavirus pandemic on the mental health and wellbeing of their children.
YOOX, the world's leading online lifestyle store for fashion, design and art, is marking its 20th anniversary with a donation to World Vision.
Millions of Syrians could starve and die if the UN Security Council does not renew this resolution allowing humanitarian organisations to deliver life-saving aid, World Vision warns.
The abolition of DFID is a political move, and the world's most vulnerable people will pay the highest price.