World Vision launches Haiti Hurricane Appeal as storm leaves over four million children at risk and 300 dead
International children's charity World Vision has launched a global emergency appeal for £8 million ($10 million) to provide aid to over 50,000 people in Haiti.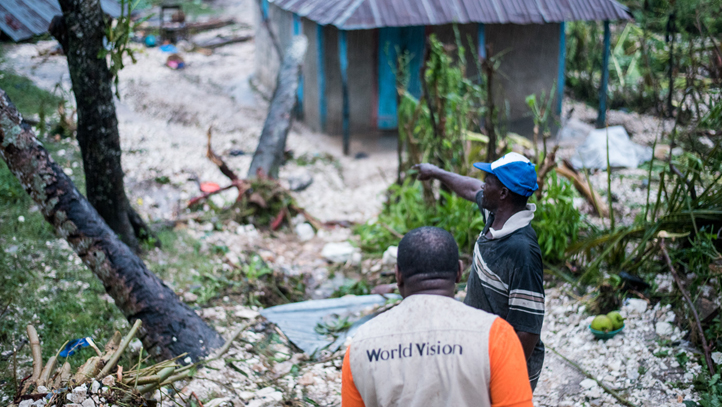 The emergency appeal has been launched to provide immediate relief to the most vulnerable Haitian communities. It comes in the aftermath of the strongest hurricane to hit the Caribbean since 2007. At least four million children may be exposed to the damage of Hurricane Matthew according to Unicef.
David Bell, the World Vision UK Humanitarian Operations Manager, said: "Hundreds of thousands of children are in desperate need of relief aid in the areas worst hit by Hurricane Matthew in southern Haiti. Our teams together with other aid agencies are on the ground trying to reach all of them. However, three days after the storm, we are not sure how many of them need urgent assistance. This is because the damage to road infrastructure and transport networks continues to hamper our assessment and relief efforts."
Haitian officials have meanwhile confirmed that the storm killed at least 339 people. According to authorities, thousands have been displaced as the storm flattened homes, uprooted trees and destroyed livelihoods on its way through the island's southwestern peninsula.
Bell explained: "The immediate needs are around medical, water, shelter and sanitation assistance. Many families are now exposed to the elements because of the sheer number of houses damaged and destroyed. 80 per cent of homes in the south of Haiti are reportedly damaged and nearly 16,000 people are staying in temporary shelters. This puts children at risk because we now have to help protect them while their parents are restoring their livelihoods. We would like to urge the British and international public to support our appeal. This appeal will ensure that World Vision can help meet the needs of the most vulnerable especially children."
To support the World Vision Haiti Hurricane Appeal, please click here »
One of the strongest hurricanes to hit the Caribbean in recent history, Matthew's torrential rains and winds has flooded crop fields and roads. The storm has also destroyed homes and buildings and collapsed the main bridge to the south, making the worst affected areas extremely difficult to reach.
World Vision officials in Haiti say most settlements have been reduced to rubble, and life-threatening flash floods remain a serious concern. Existing diseases in the region - including cholera, dengue fever and Zika - are likely to worsen as a result of the damage caused to sewage infrastructure and water sources.
Bell added: "Our immediate response includes distribution of Non Food Item kits -- such as kitchen sets, hygiene kits, baby kits, bed sheets, blankets, and flashlights -- to approximately 15,000 hurricane affected families.
"Hygiene promotion will be conducted across the country to ensure appropriate use of water treatment supplies and reduce risk of cholera outbreaks and other water-borne illnesses. Food vouchers will also be provided where markets are functioning to assist vulnerable families whose crops have been destroyed by the hurricane and are at risk of food insecurity," he explained.
You can support the World Vision Haiti Hurricane Appeal by donating to help the children and families affected by Hurricane Matthew.
For more information, pictures, case studies and interviews, please contact:
Henry Makiwa | Media Manager Strategy
World Vision UK | www.worldvision.org.uk
Phone: +44 1908244446| Mobile +44 (0)7469 154268
E-mail: henry.makiwa@worldvision.org.uk
Skype: Soshangana | Twitter: @makiwahenry
Hillsong UK youth & teenage Syrian refugee discuss their past and hopes for the future
As millions of children remain out of school around the world, World Vision UK today launches its "Empty Classrooms, Broken Futures" campaign.
Over half a million children are at risk of child labour and child marriage as their families struggle six months on from the Beirut blast, World Vision warns today.
Ending violence against children remains alarmingly underfunded, despite one billion children experiencing violence each year, according to a new report.