World Vision leads the way in Ebola crisis
World Vision has supported more than 1.5million people whose lives were devastated by the Ebola virus, the charity's latest Impact Report reveals today.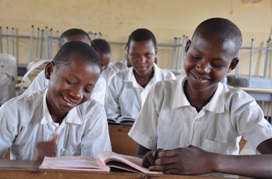 The outbreak in Sierra Leone formed the cornerstone of our emergency response efforts in 2015. World Vision played a major part in ridding the country of one of the most virulent diseases known to mankind. We handed out over five million face-masks and other protective items and trained burial workers to conduct tens of thousands of safe burials.
Last year, our 98,000 UK child sponsors helped fund 317 health, education, humanitarian and child protection projects in 38 countries. Through their support, we were able to provide food, health, education and other services to four million children in the world's hardest places.
Tim Pilkington, Chief Executive of World Vision UK, says: "The Ebola crisis is a prominent example of the real impact we have in the world. Every year we transform the lives of millions of children across the globe. Our report shows how we make a true and lasting difference.
"The task ahead is huge but our quest to help children in the world's toughest countries is unwavering."
Evidence for the report comes from 22 detailed evaluations of our community programmes and reviews of World Vision UK's advocacy and policy work. The report shows how our programmes increased their impact last year with:
29 per cent more births attended by skilled assistants
15 per cent more children immunised
15 per cent more children learning to read and write.
A short video summarising the findings of the report, along with a longer  technical report, is available at www.worldvision.org.uk/our-work/impact
Civilians in north-east Syria are at risk and humanitarian aid could be cut off following the launch of a new military operation in the area, leading aid agencies are warning.
Climate-driven disasters are becoming alarmingly common and more deadly, says Andrew Morley - World Vision's Global President and CEO.
Faith-based aid organisations have a vital role to play in reaching the world's most vulnerable communities, the Shadow Minister for International Development said today.
UK activist Amika George is urging world leaders to stamp out period poverty after visiting a World Vision menstrual hygiene project in Zambia.