Typhoon Nock: World Vision deploys assessment team to worst affected districts as thousands are evacuated
World Vision has deployed an assessment team to ten of the most affected districts in the Philippines after a late-season typhoon roared ashore, prompting widespread mass evacuations.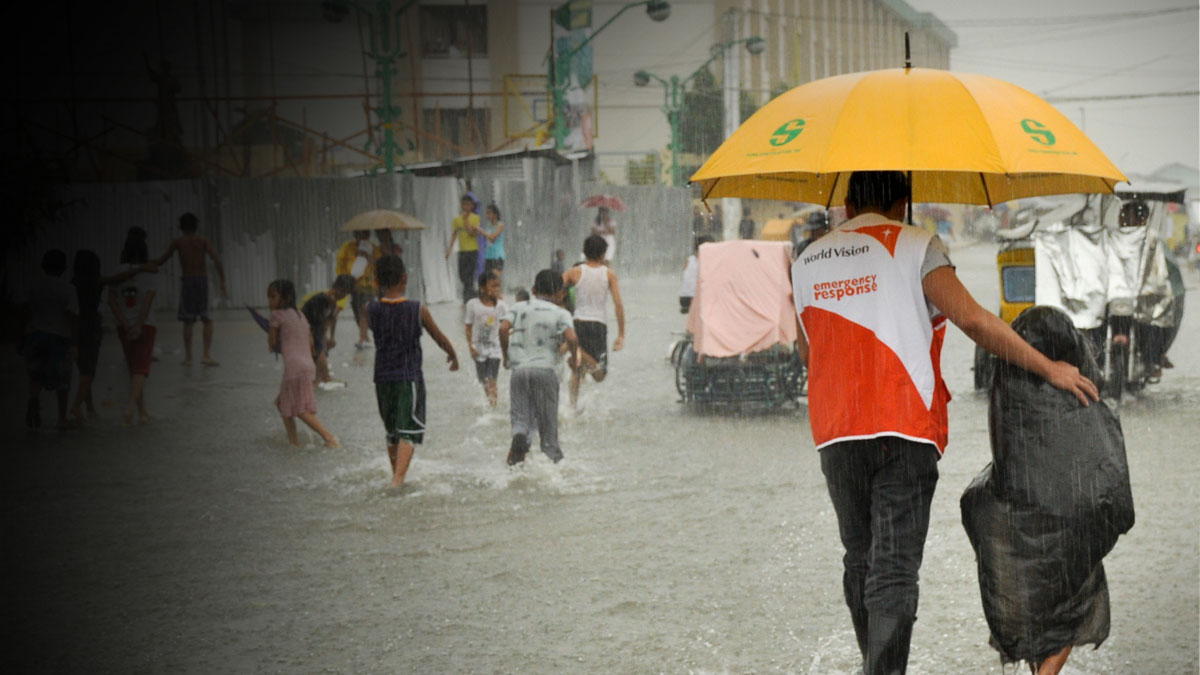 Typhoon Nock-Ten (locally known as Nina) hit parts of the Philippines on Monday, leaving many parts of the country flooded. More than 383,000 people have also fled their homes, according to the civil defence office. World Vision (WV) Philippines' emergency staff – consisting of a five staff skilled in emergency response management, child protection, health and nutrition and documentation – have been put on standby to travel to Typhoon Nock-ten affected areas once weather alerts have been lifted.
Ajab Aram Macapagat, Director of Humanitarian and Emergency Affairs for WV Philippines, said: "The team will focus on conducting rapid assessments on the situation to determine the degree of impact, needs and existing capacities, liaise with other organisations and co-ordinate with local partners in the area. This will determine the level of our response." Typhoon Nock-Ten (locally known as Nina) was located 95 km southwest of Subic in Luzon with maximum sustained winds of 120 km/h and gusts up to 180 km/h, according to the Philippine Atmospheric, Geophysical and Astronomical Services Administration), the country's weather bureau.
Prior to landfall on Sunday (December 25, 2016) more than 380,000 people had reportedly fled the storm to seek safety in evacuation centres. Thousands more remained in their homes and endured a Christmas night of severe weather as Typhoon Nock-ten slammed central Philippines. The typhoon has left significant damage in its wake, according to accounts from World Vision staff living within the affected areas. "My family and I are safe. I can't go around the area yet because of many fallen trees. We still don't have electricity due to damaged electrical posts," said Karen Gonzales, one of the WV Philippines staff, from Camarines Sur.
Devastating typhoons - most notably Typhoon Haiyan in 2013 - have battered the Philippines in recent years. Haiyan - considered to be among the strongest storms to make landfall in recorded history - killed more than 6,000 people and forced nearly 4 million people from their homes.
For more information, pictures, case studies and interviews, please contact:

HENRY MAKIWA
Media Manager
Mobile: +44 (0)7469 154 268
Email: henry.makiwa@worldvision.org.uk
Twitter: @makiwahenry
Save
Hillsong UK youth & teenage Syrian refugee discuss their past and hopes for the future
As millions of children remain out of school around the world, World Vision UK today launches its "Empty Classrooms, Broken Futures" campaign.
Over half a million children are at risk of child labour and child marriage as their families struggle six months on from the Beirut blast, World Vision warns today.
Ending violence against children remains alarmingly underfunded, despite one billion children experiencing violence each year, according to a new report.