World Vision launches Refugee Crisis appeal as EU leaders meet in Brussels
World Vision UK has launched an emergency appeal as the refugee crisis in Europe continues to escalate.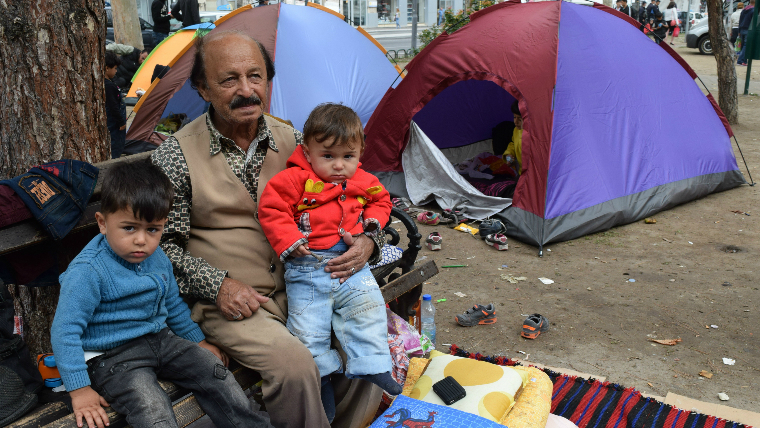 Hundreds of thousands of people are in desperate need of emergency relief; and the charity is urging the UK public to support its appeal as devastating conflicts across the Middle East and elsewhere, is spawning a refugee crisis that is now reaching Europe.
As European leaders gather for a special meeting of EU interior ministers on the refugee crisis today (14 September), World Vision is scaling up its efforts to deliver humanitarian aid to thousands of desperate refugees in camps in Serbia.
Tim Pilkington, chief executive of World Vision UK said: "Much of the focus on this refugee crisis has been on the Syrian conflict. We are deeply concerned that the UN appeal for the Syrian crisis has only been 37-per-cent funded; and this shortfall has led to drastic measures including cuts to food aid. Conditions for refugees, both in the camps and also in host communities in the Middle East, are deteriorating. Last month there was the highest number of civilian deaths in Syria and so people are continuing to arrive in countries like Jordan and Lebanon, which are already stretched to capacity.
"As we have seen, many are now coming to Europe; and World Vision has now extended its work into Serbia focusing on mothers and children, providing them with essentials such as nappies, soap, and other basic items. We urgently need supplies such as food, water and hygiene kits- so the UK public's support would make a huge difference," he said.
Meanwhile, EU interior and justice ministers are meeting in Brussels today in an effort to find concrete measures to cope with the escalating refugee crisis. World Vision is urging European leaders to agree on a long-term international plan that emphasises burden-sharing and overrides policies that were meant for more conventional times.
Gavin Crowden, World Vision UK's Head of Policy and Public Affairs said: "EU Ministers meeting in Brussels today can no longer be in any doubt about the scale of this crisis. We are looking to them to agree a credible plan for the long term. We want a clear strategy that mitigates against any further harm to children affected by the crisis, living inside and outside of the conflict zone.  
"The countries in the Middle East who are hosting the vast majority of refugees are struggling. In Lebanon alone a quarter of the entire population are refugees. The pressure on schools, hospitals, infrastructure and services is overwhelming. The economic and political instability in these countries can only be alleviated by a better-coordinated and funded international response. 
"Clearly, countries in the EU need to develop comprehensive integration policies for the arriving refugees and step up the number of refugees they are willing to accept," he explained.
ENDS
For more information, pictures, case studies and interviews, please contact: 
Henry Makiwa | Media Manager Strategy | World Vision UK | www.worldvision.org.uk
Phone: +44 1908244446| Mobile +44 (0)7469 154268 | E-mail: henry.makiwa@worldvision.org.uk | Skype: Soshangana | Twitter: @makiwahenry
An estimated 110 million children across Asia are going hungry due to the economic impact of coronavirus, World Vision warns today.
A new study released today and conducted by Sevanta ComRes, has found that 48% of British parents are concerned about the impact of the coronavirus pandemic on the mental health and wellbeing of their children.
YOOX, the world's leading online lifestyle store for fashion, design and art, is marking its 20th anniversary with a donation to World Vision.
Millions of Syrians could starve and die if the UN Security Council does not renew this resolution allowing humanitarian organisations to deliver life-saving aid, World Vision warns.