Children born of rape in war: Jacob's story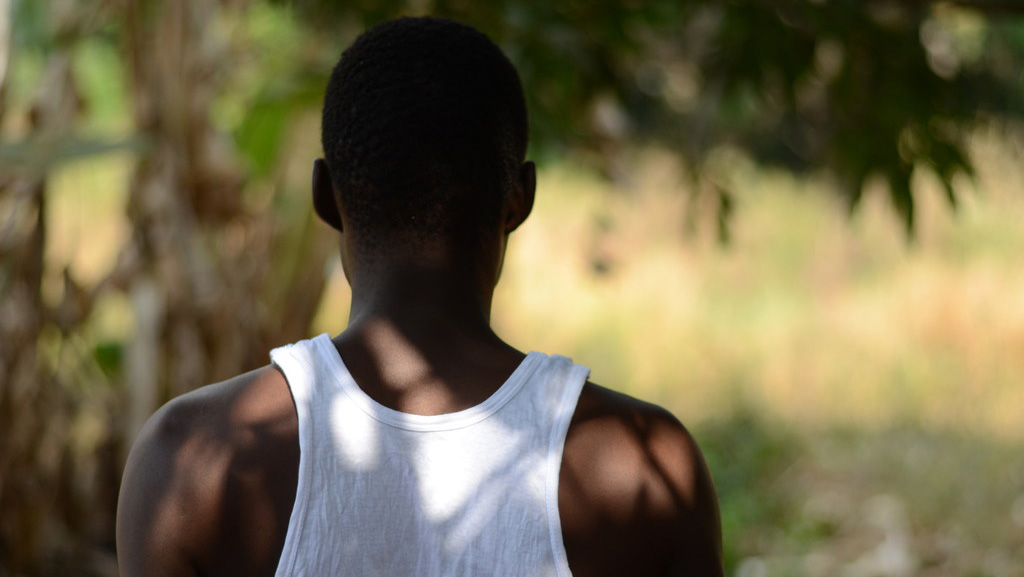 Jacob* is 17 years old. He should be enjoying school, hanging out with friends, and thinking about his future, but instead his short life has been marred by struggle.
His mother gave birth to him in the bush in Sudan when she was just 15 years old.
She had been taken captive by the Lord's Resistance Army (LRA, a Ugandan rebel group lead by Joseph Kony) while on her way to school and forced both to fight in the conflict and be the "wife" of another soldier.
"Life in the bush was not easy – she was beaten, given heavy luggage to carry over long distances and often had no food to eat or water to drink. People used to drink urine when there was no water available," Jacob says.
When he was young, his father used to bring him treats like clothes and biscuits. But things got much harder for Jacob and his mother when his father died.
"When he passed on life started to become difficult for me… I was no longer being protected from danger. Attacks used to happen almost every day."
Eventually, Jacob and his mother escaped. During an attack on the rebel group, they managed to run away. His mother told him they were going home.
"I didn't know what 'home' looked like but I was eager to see it… We walked for two days and still hadn't reached home.
"I asked, 'Where is home?' and started to cry. My mother kept quiet."
Eventually they arrived back at his mother's hometown. At first, they were welcomed by the community there, but soon faced the stigma of having been associated with rebels.
"Now people in the community are calling me a rebel child," Jacob says. "Other children discriminate against me. I am being rejected, but I am just like any other child. What's wrong with being born in the bush?"
"We have many challenges that we face – we are discriminated against because of our identity. We have no place to call our home. We face rejection from the community and within our own family.
"I want people to know that we need support for the challenges we are facing, and people should know that the children born in captivity still have many problems that need to be addressed."
- Jacob, whose father was a rebel soldier
Jacob's story is sadly not unique. At least 3,000 children - probably many more - were born to girls and women abducted by the LRA, products of Kony's "forced wife system" which aimed to create the next generation of fighters.
These children often face discrimination and even violence.
"People don't love us as other children born from home," Samuel* says. Like Jacob, he was born in the bush after his mother was captured and raped by rebels in Uganda aged just 13.
"People should know that we are all human beings," Samuel adds. "We have blood and also feel pain when treated badly."
Two years ago, World Vision began a project, funded by the UK Government, to address stigma faced by survivors of sexual violence in conflict and children born of rape in Uganda, the Democratic Republic of Congo and South Sudan.
Working with survivor groups, children and youth groups and faith leaders, we have helped to change attitudes and improve access to support and services.
In all three places, survivors and children born of war are involved in the monitoring and direction of the project – and have expressed increased acceptance in their communities.
Pastors are giving sermons on the topic, leaders of different faiths are marching through the streets to demand acceptance for children born of war, and youth champions are speaking out in schools and challenging the attitudes of their peers.
In Northern Uganda, World Vision partners with Watye Ki Gen ("We Have Hope"), a community-based organisation of women who were abducted by the Lord's Resistance Army and returned.
They have joined together to demand the rights of their children, and other children born in the LRA. A new project, just beginning, will provide vocational and educational support to these children.
Children have for too long been at the margins of these discussions. On this International Day for the Elimination of Sexual Violence in Conflict, it's time we gave them a voice.
* Jacob and Samuel's names have been changed to protect their identity. The image used is a file photograph and does not represent either child.
By Erica Hall & Angela Atim
More children than ever are out of school right now. Too many of them will become vulnerable to exploitation and abuse. Find out what can you do about it.
Mark and Christine from Newcastle, met their sponsored child in India during lockdown. The virtual visit is a new way to meet your sponsored child. See how it went.
Renee became a child sponsor hoping to make a difference to a child in poverty. Read her story of how Child Sponsorship brings change and joy to her life too.
One way or another, children around the world are getting back into education. Find the top 5 reasons why it matters.