Child sponsorship in Albania: Flavio and Amy's story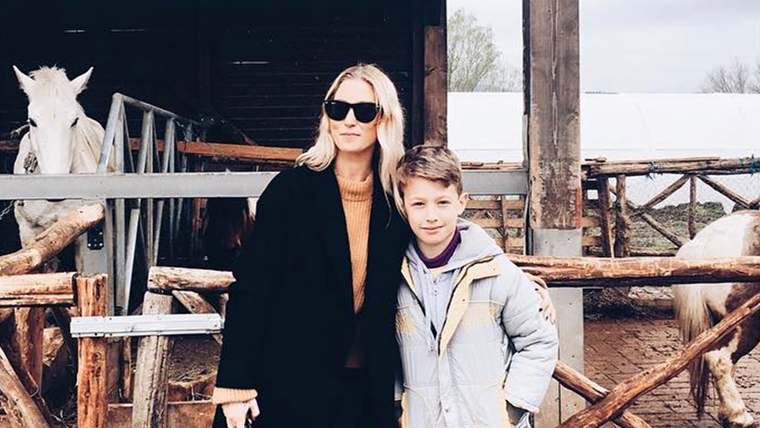 After two years of sponsoring and exchanging letters with Flavio, now 11 years old, in Albania, I decided to meet him and his family on my birthday this year.
Prior to my arrival in Albania, I was doubting how important my sponsorship could actually be, and how much of an impact I could have on just one person.
But the moment I met Flavio and he hugged me and handed me a bouquet of flowers that he had picked out for me for my birthday. I knew immediately that my sponsorship meant much more to him and his family than I could have ever imagined.
Flavio's mother brought with her every letter I had ever written to Flavio
As soon as she showed me my letters, along with many proud photos of their family, I finally became aware of the impact I was having on Flavio's life, and how precious my sponsorship was to him and his family.
His mother thanked me many times and told me they had been praying to meet me.
The entire day was extremely emotional as I realised what an influence and inspiration I was to Flavio and his future. Flavio told me he wanted to be a designer (or an architect) just like me.
We both share a love of drawing and creativity, which makes us a perfect match.
I left Albania with a new perspective and will make it my priority to continue helping Flavio's community to ensure for a brighter future for him and his family.
He has so much potential, and I hope that in some way my small sponsorship can help him take steps closer to becoming a designer and chasing his dreams.
Flavio, like every other child on this earth, deserves the same opportunity to excel in their talents and education.
My wish is to watch him continue to grow as a designer and support him in whatever way I can.
Out of all of the things I have done in my 32 years of birthdays, it was by far my most special birthday ever.
Amy Gambacorta
On 12th February – Red Hand Day, the International Day against the Use of Child Soldiers – five young people from the UK who were involved in the project will meet their MPs in Parliament.
The £12.5 million announced by the UK Government today for ending the worst forms of child labour is really good news for some of the world's most vulnerable children.
World Vision UK wants to give young people who are not directly affected by armed conflict a space to express themselves and stand with the most disadvantaged children.
The future of children in the Central African Republic, from which I have just returned, is uncertain at best. They are forgotten casualties of a forgotten armed conflict.