Pumpkin Heroes: Believing in others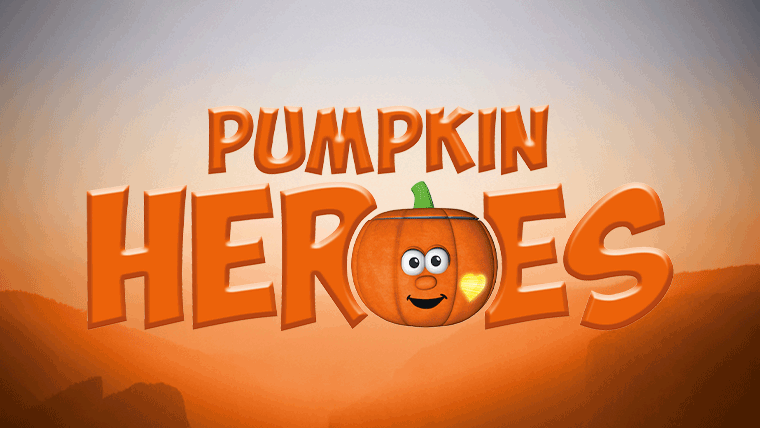 Sharing God's light with children this Halloween.
This year has been a difficult one for everyone. Children around the world have felt the brunt of missing education and being isolated from their friends.
And sadly a study from Allchurches Trust shows that many churches have experienced a drop in engagement with children during this time too.
Now, the UK has gone back to school, but children are still experiencing temporary isolation measures and school closures as coronavirus continues. It's a topsy-turvy time.
We need a hero… a Pumpkin Hero!
In the middle of all this, it's good to have someone to rely on, someone familiar who will always turn up when expected and turn our day around. And on that note…
Patch is back!
This autumn your favourite squash-based character returns with a brand-new adventure. On the way he learns a few life lessons about friendship, disappointment and the difference that believing in others can make. Things we can all relate to, especially in 2020.
"Therefore encourage one another and build each other up, just as in fact you are doing." (1 Thessalonians 5:11)
In this October's adventure, our big-hearted little superhero, Patch, learns a bit about what it means to be a good friend, by believing in and encouraging others.
Through Patch, children will learn about God's love for them in a fun way; they are reminded that they are chosen and that they've each been given special talents and skills that could help others. And each child can know that God has given them those skills, because he believes in them.
Belief gives great courage. It helps people to be the best they can be.
- Wise-But-Grumpy Owl
By understanding that – and recognising how good it is – your children will start to realise that other children need the same encouragement. It's our desire to help children think about those who are lonely and afraid; and especially those whose lives are very difficult in other parts of the world.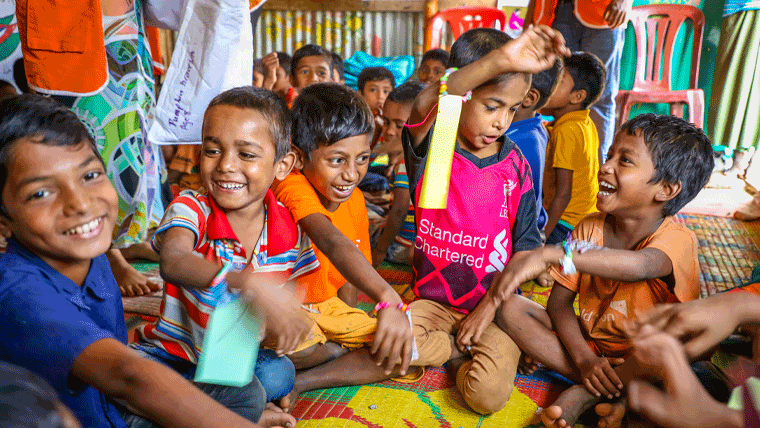 We're all Pumpkin Heroes – and we can shine bright
We know there's a hidden hero in everyone.
At World Vision, we see it every day in the community volunteers who spend their days visiting remote neighbours and the children who come home from school and choose to share what they've learnt with siblings, cousins and parents. And we've all seen it in the UK over the last few months, as communities came together to help their vulnerable neighbours and heroes like Captain Sir Tom Moore went to extraordinary lengths to support the NHS.
Last October, Pumpkin Heroes around the UK made Buddy Bracelets. They were received by vulnerable children living in refugee camps in Bangladesh. The smiles on their faces show just how much difference a thoughtful act – knowing that someone is thinking of you and believes in you – can make.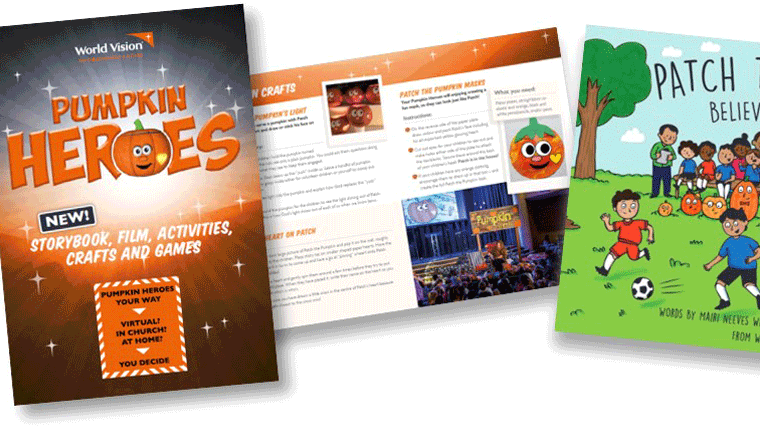 Your Pumpkin Heroes party
This autumn, Patch will help every child you work with (aged 4-10) to find their own hero and shine God's light once more.
Plan your Pumpkin Heroes party by getting your FREE pack today.
Your pack includes:
A new storybook: Patch the Pumpkin: Believing in others
A new Patch film adventure
Games and Christian activities
And it's COVID-proof – You can use it all whether you're meeting in church, in a home or virtually.
Bonus material: To get you in the mood you can stream Patch's theme song Shine real bright now! It's the perfect way to start your Pumpkin Heroes party (and to brighten your day with a feelgood kitchen boogie right now. Go on. No one's watching)
More children than ever are out of school right now. Too many of them will become vulnerable to exploitation and abuse. Find out what can you do about it.
Mark and Christine from Newcastle, met their sponsored child in India during lockdown. The virtual visit is a new way to meet your sponsored child. See how it went.
Renee became a child sponsor hoping to make a difference to a child in poverty. Read her story of how Child Sponsorship brings change and joy to her life too.
One way or another, children around the world are getting back into education. Find the top 5 reasons why it matters.