The overwhelming joy of meeting the girl I have sponsored for a decade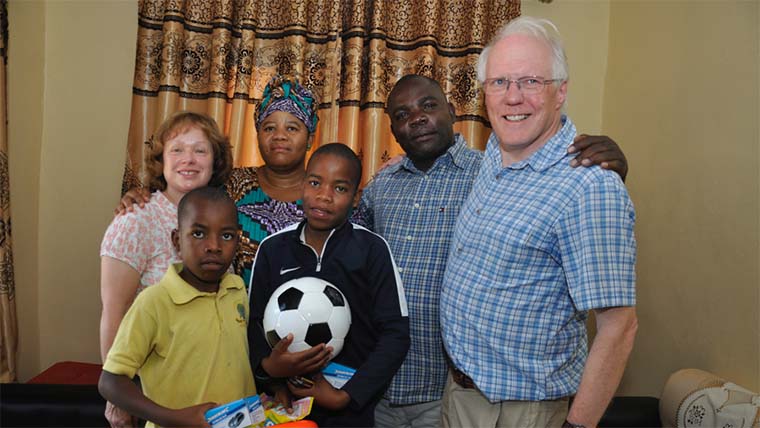 As the plane touched down on the tarmac, my heart started beating faster. I was finally in Tanzania, where my husband and I were about to meet Gloria, the girl we have been sponsoring for more than nine years through children's charity World Vision.
As we waited to leave the busy Kilimanjaro International airport, I took a few moments to take it all in.
I was still unsure that we would actually meet Gloria. A month earlier, I had received a letter from her mother saying that Gloria was attending a secondary school in the city of Arusha. Although I was thrilled to hear this, I was afraid it would mean we could not meet her – it would take Gloria seven hours by bus to return home, and we wouldn't want to disturb her studies.
However, my excitement grew when I saw the itinerary for the whole week: Not only were we visiting Gloria's family at their home, but we were also to meet Gloria at her school on our last day back in Arusha.
Although it seemed a long time to wait, there was so much to see and experience and time went by very quickly.
We travelled to Kisiriri, a large area in the country's Singida Region, where Gloria's family lives. During the journey, my imagination ran wild and my head was filled with questions. What would their house be like? How is their health and work? Would Gloria's brothers be home?
When we reached our destination, Gloria's parents recognised us immediately and warmly welcomed us into the house where Gloria's brothers were waiting. I had brought copies of Gloria's photos World Vision had sent me over the years. Her brothers smiled to see Gloria when she was very young. I also showed them a photobook with pictures of our family and of England. They were very interested in the photos, and especially pleased to see our grandson.
Time passed by very quickly, and although it was very helpful to have an interpreter with us, it was great that Gloria's father spoke some English. We exchanged gifts. The boys particularly liked the football we gave them and told us which English teams they support. The family were hospitable and generous, passing round water and delicious nuts to everyone. We felt so honoured to be there. I felt so overjoyed and thankful when we said our goodbyes, praying blessings on this lovely family. We were pleasantly surprised to find out that we would see Gloria's father again, as he would be collecting her for the Christmas holidays.
Back in Arusha, it was finally time to meet Gloria. Just a short distance from the main road, we drove through the school gates. Gloria was waiting for us with her father. She looked so relaxed, with a beaming smile.
To my surprise, Gloria spoke to me in English. We sat down and looked at the photo book I had brought. She loved it, especially the photo of our family eating Christmas dinner. Then she told me she was looking forward to eating "rice and beans" for Christmas. She proudly gave us her exam papers to look at. We were so pleased to see that she had worked hard and done well. She then told us she would like to become a pilot. It was so wonderful to see her doing well and having the opportunity to study, and I am sure she will have a great future.
Meeting Gloria was such a fantastic experience - filled with so many emotions - that it is almost impossible to describe. Even before travelling to Tanzania, I was aware of the many ways World Vision works with communities around the world. However, it was both amazing and humbling to actually be there, meet the World Vision staff in their offices and see how the area is developing thanks to the charity's' programmes.
My husband and I have sponsored four children through World Vision over 24 years. Meeting Gloria strengthened my belief that sponsoring a child is a great way to make a positive impact on the lives of children around the world. Not only it benefits them, but also their communities, creating long-lasting changes and environments where children are safe, they can thrive and reach their full potential.
To learn more on World Vision's child sponsorship system, click here.
More children than ever are out of school right now. Too many of them will become vulnerable to exploitation and abuse. Find out what can you do about it.
Mark and Christine from Newcastle, met their sponsored child in India during lockdown. The virtual visit is a new way to meet your sponsored child. See how it went.
Renee became a child sponsor hoping to make a difference to a child in poverty. Read her story of how Child Sponsorship brings change and joy to her life too.
One way or another, children around the world are getting back into education. Find the top 5 reasons why it matters.