Red Hand Day: World Vision youth campaigners urge UK Government to act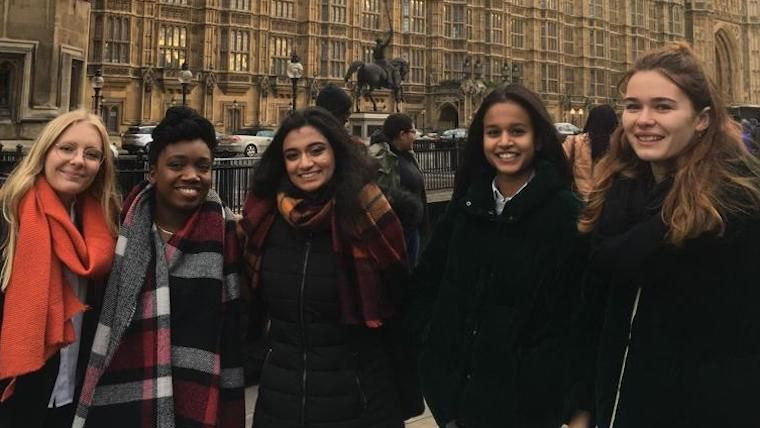 Tshibola was just 14 years old when her home in the Democratic Republic of Congo was attacked by militia.
The armed group had killed and decapitated her older sister just the day before, and now they surrounded the house, before breaking in and tying her up. All alone – her brother-in-law having fled – she thought she would be killed.
But instead, she was offered the choice to join the militia. With nowhere left to turn, she agreed.
"We spent two days where they do the ceremonies." Tshibola remembers. "They gave me alcohol, and on the second day they said we were going into battle.
"The military started shooting when we arrived, and I fell to the ground." Tshibola had been shot several times in the legs.
The military transported her to a military camp to get treatment, and later – at the beginning of September last year – Tshibola arrived at a centre for demobilised children, limping on crutches. She doesn't know what has happened to the rest of her family.
It's possible her mum and brothers have fled to Angola or are hiding in the bush like so many others. At the height of the crisis in the DRC, an estimated 1.6 million people had fled or been forced from their homes. After months of relative peace, only about half have returned home.
Tshibola's brief but harrowing experience in the militia has left her with physical scars that will last a lifetime, alongside emotional and psychological trauma. World Vision case workers are working children like her, providing counselling and physical help, but there's a long way to go.
World Vision UK's It Takes A World campaign calls for an end to violence against children in humanitarian contexts, with a particular focus on child soldiers like Tshibola.
250 million children live in countries affected by conflict but the voices of children on the issue of conflict often go unheard and ignored by policy makers.
To make sure this changes, World Vision UK has partnered with more than 60 children and young people to create a policy change project, 'Their Fight, Our Future'.
We presented children and young people between the ages of 13 and 22 with the stories of former child soldiers and invited them to share how they think child recruitment could be prevented, and devise policy calls to the UK Government.
Those who took part came from all over the world; from the World Vision Young Leaders Programme in Ethiopia, Bangladesh and Sri Lanka, World Vision Peace Clubs in Kenya, Uganda and the Central African Republic, as well as young people in the UK.
On 12th February – Red Hand Day, the International Day against the Use of Child Soldiers –five young people from the UK who were involved in the project will meet their MPs in Parliament. They will explain why it is important for British leaders to promote the voices of children who have been involved in armed forces and groups and urge them to help put an end to violence against children in emergencies. They will also meet the Minister Lord Ahmad of Wimbledon (FO) to discuss the findings of the research, and their calls for action on the UK Government.
The first policy call on the UK Government is for them to use their political influence and diplomacy with governments of conflict-affected countries.
Lily (22) says: "More specifically, this should include ensuring access to fundamental services. Through provision of resources, our government can offer hope through education, and protection through legislation. "These children have no platform, no agency, no voice. If we don't speak for them, who will? If we will speak for them – will you?'
The second call is on the UK Government to provide more funding for projects in countries affected by conflicts, specifically where children are at risk of recruitment by armed forces and groups.
Raphaelle (19) says: "We are a large contributor to international aid, and we should use this platform to help those most vulnerable, such as children involved in conflict, as much as possible. Whilst ideally these conflicts would be stopped, it is unrealistic to think we can end the violence completely, however what we can do is put projects in place to stop young people entering in to unsafe environments such as militias, and help those who have suffered rehabilitate their lives. Funding from the UK government would enable this kind of work to happen, and give vulnerable children a chance to have a decent future."
The third call is on the UK Government to provide a platform for British young people to raise awareness of and discuss solutions for children used in armed forces and groups.
Asini (19) says: "This includes introducing the topic of child soldiers into the national curriculum which will raise awareness in individuals who are currently ignorant to the situation at hand. The reason why I care so much about this campaign is because I grew up in Sri Lanka during the civil war and as a result, I was exposed to the forced use of children in armed conflict from a young age. Other individuals have different reasons as to why they chose to get involved but it is important that government realises that we do care and we need the platforms that facilitate this and allows us to help make change."
Please join our youth campaigners and click here to sign our petition and help end violence against children.
More children than ever are out of school right now. Too many of them will become vulnerable to exploitation and abuse. Find out what can you do about it.
Mark and Christine from Newcastle, met their sponsored child in India during lockdown. The virtual visit is a new way to meet your sponsored child. See how it went.
Renee became a child sponsor hoping to make a difference to a child in poverty. Read her story of how Child Sponsorship brings change and joy to her life too.
One way or another, children around the world are getting back into education. Find the top 5 reasons why it matters.