Starting over in Stepanavan, with help from child sponsors
As told to Ani Chitemyan, World Vision Armenia
In April 2016, eight-year-old Nelly's family fled their village when heavy fighting broke out between Azerbaijani and Armenian forces in the Southeast of the country.
Nelly's family found shelter in one of Armenia's remote communities, which also happens to be supported by our child sponsors in the UK – Stepanavan, located in the northern part of the country. In Stepanavan, the mayor helped to find the family a small house to live in, and our office provided the family with a cow, as well as the necessary bedding for the new house, and helped to register them in the local schools. Today Nelly and her four siblings are all sponsored children.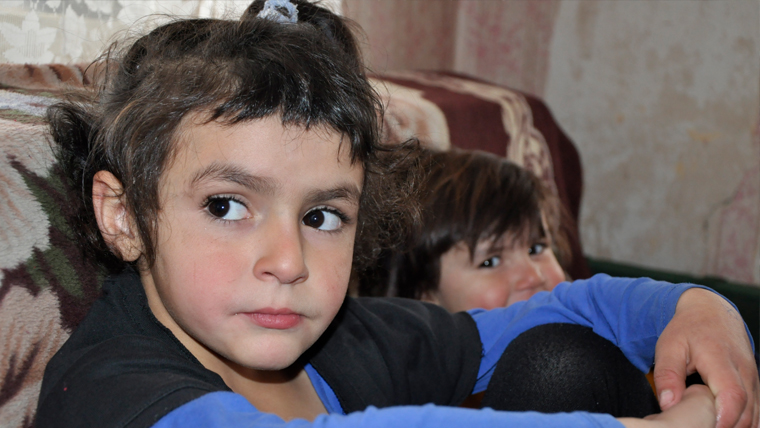 "I remember our home in the village. One night Mum woke us up, and Dad was at his work place, on the night shift. Mum was crying our names –'wake up, wake up'. I woke up thinking it was time to go to school, but it was dark outside. Mum held Nane [Nelly's 2-year-old brother] with one hand and Mari with the other hand, and pushed me, Mikael and Mane out of the house.
It was very dark, we were running, and all of our neighbours were running. I could hear bombing sounds, it seemed like some kind of fireworks; I wanted to find Daddy, but Mum was angrily pushing me to run.
Then I saw Dad coming to us, he grasped me, we reached the car, and he drove us far from our home. Along the way, someone told Dad that our house had crumbled, I remember Mum was crying all the time.
In this new home everything is different; at first we had nothing at all, and World Vision gave us clothes, shoes and toys. World Vision gave us a cow, and it gives us milk and cheese every day. But I wish we had more food; it is always only potato and cabbage for meals. Mum rarely buys meat or candies for us.
When we came to this new village, I had no friends, but people were kind to us. Our neighbours gave us some fruits from their orchards; during the first days some were giving us bread. Our village mayor gave us a sack of potatoes.
I hate when Mum is doing hand washing. Every day she needs to wash our clothes so that we go to school clean. She washes everything every evening, and her back is aching with the new baby. And when it snows, it is cold, and the clothes don't get dry. Mum gets angry about it, and when we are not neat with our clothes, she's frustrated.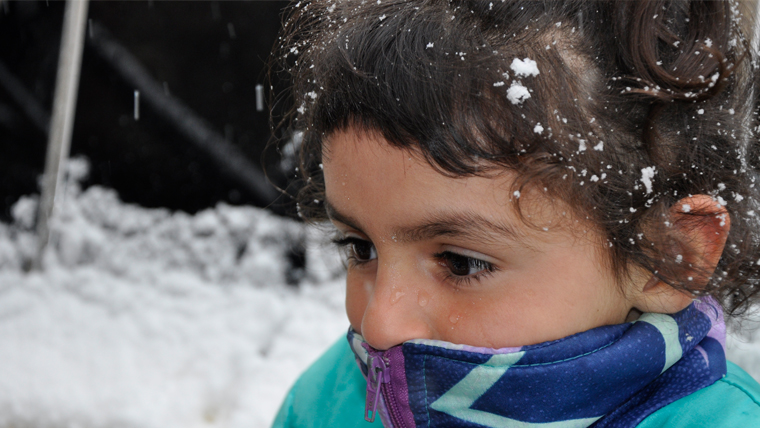 One thing that I don't like is that it is very cold here. It is snowing often - I like snow, we play outside a lot - but I wish it were not very cold when it snows. My hands get red, and my ears and nose are cold. We heat the house only in the evening, when it gets really-really cold. And Mum wants us to go to bed early, so that we are warm under the quilt. Daddy had to buy some wood from our neighbours to heat the house, but he borrowed money for that, and now Mum puts aside their earnings to pay the debt. And I know it is so hard for her to give us food every day with little money.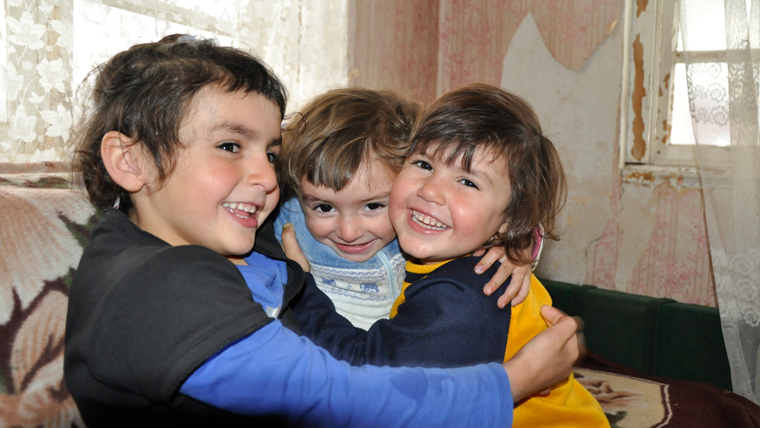 Mum says we need to study well at school so that we have a job and we earn our living when we grow up, but I don't like studying at school. I prefer hairdressing, so when I grow up, I will surely become a hairdresser. I have tried once to do my hair, and cut my hair on my own [here, Nelly breaks off to chuckle] - oh, Mum was so angry!
Our child sponsors across the UK are supporting over 5000 children in Armenia, helping vulnerable families like Nelly's to support themselves and pursue a brighter future for their children. You can read more about sponsorship and our work in Armenia here.
A celebration of children across the UK who've been inspired to fundraise for more vulnerable children during the global pandemic.
From genocide to pandemic: World Vision South Sudan's Emilienne Cyuzuzo is helping vulnerable families facing COVID-19.
12-year-old refugee Priscillia, in the DRC, is trying to protect her friends and family from the coronavirus pandemic.
Bored of banana bread? If you're looking for some foodie inspiration join World Vision child sponsor Rhiannon Tuntevski on a culinary journey.