Tools for school - vital materials for children affected by Child Labour in Afghanistan
Growing up with a father addicted to drugs, Negina, 12, from Afghanistan, was forced to work alongside her mother from sunrise to sunset to provide for her five younger siblings.
They did everything they could to find money to survive – from collecting rubbish on the street to shelling pistachios or washing clothes for neighbours.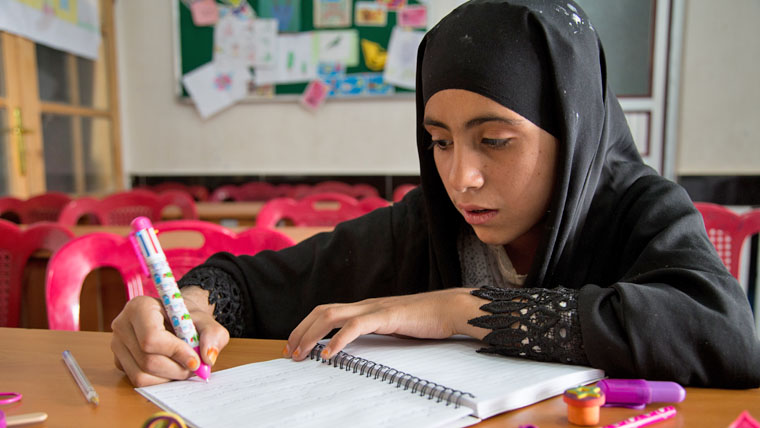 I liked to go to school, but we didn't have money to buy school supplies.
- Negina, 12
At the time, Negina chose not to raise the subject with her mother, who was doing all she could to care for the children. "I didn't want to make her sad," she says.
In Afghanistan, at least a quarter of children between the ages of five and 14 are involved in child labour (UNICEF). Like Negina, 70% of these children have stated their highest aspiration was to have the opportunity to study, according to a survey conducted by the Department of Labour and Social Affairs.
World Vision works to support these children in gaining an education through our Street Children Centres. Negina has been coming to one of our Centres almost every day for three years, "I am now in class three," Negina says, smiling. She is taking part in our in psychosocial, educational and health services. She also continues to help her mother wash clothes and shell pistachio nuts after school.
Recently, our Street Children Centres received thousands of additional school supplies including notebooks, pens and erasers to help vulnerable children attend school. The extra materials make it possible for children in need to attend school.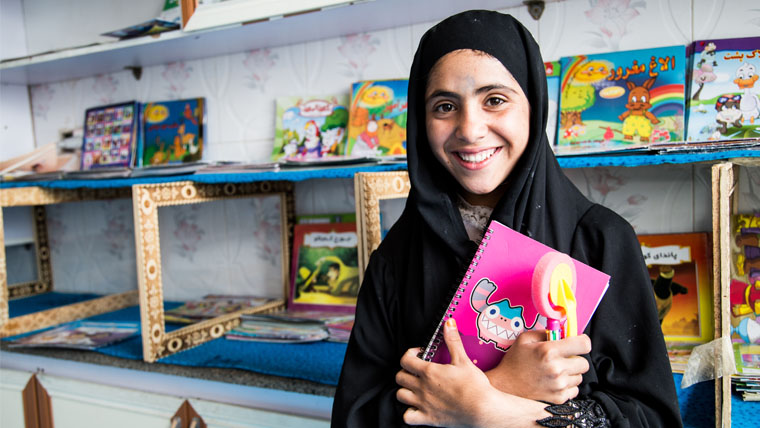 Negina could hardly contain her excitement when she received her supplies – it was the first time she had ever owned new school supplies. Holding up her favourite pen she exclaimed; "look, look, this pen has 12 colours, green, red, blue… I can write using all of them!"
Mr. Poya, a World Vision counsellor at the Street Children Centre says; "a child will definitely have difficulties in learning if [they lack the tools] to learn quickly. To motivate children, especially street children [whose focus is earning an income for the family], we should provide school supplies for them."
Having a notebook and drawing supplies might seem mundane to a lot of children, but for Negina they mean the world. What little money families like hers have goes toward food and fuel for warmth in winter. The bare necessities rarely include school supplies.

"If the notebook papers don't have blank space anymore and if the pens dry up, I would still keep them because they are one of the best gifts I have ever received in my life," says Negina. She is planning to write all her wishes and dreams in the notebook.
160 million children around the world are involved in child labour. It can be damaging to their health and often prevents them from finishing their education. We have been working in Afghanistan since 2001, helping to ensure children enjoy good health, are in education for life and are cared for and protected. You can find out more about our work in Afghanistan here
How you can help:
You can also find out how you can support a child's education through our Must Have Gifts catalogue here
How can you maintain social distancing in a camp of crowded tents? How do you wash your hands regularly when the queue for the water point is long?
During the current coronavirus crisis, children are finding ways to bring hope and healing to those around them.
In South Sudan, already vulnerable children face a deepening crisis as coronavirus hits their country. Here we meet Paska, an extraordinary girl, who has become carer to her three younger siblings at the age of just 11.
One Buckinghamshire girl has turned disappointment into opportunity – and is bringing hope to other children around the world.