Sponsorship brings hope in Armenia
By Artyom Mkrtchyan, Communicator, World Vision Armenia
Twin brothers, Hakob and Davit, have both suffered from cerebral palsy since early childhood in Armenia. Unable to go to school due to their condition, the boys live with their mother Julieta and their two elder brothers in desperate living conditions. Their sponsors in the UK have helped them access essential resources and kept the family hopeful for a brighter future.
The scene was distressful as I cautiously opened the shabby wooden door of the flat, located in a run-down suburb of Alaverdi in northern Armenia. Through the gloomy corridor, a dilapidated room of around ten square meters with torn wallpapers and worn carpeting greeted me.
In a corner I found twin brothers, Hakob and Davit. Hakob was lying on a couch glancing at the ceiling, and Davit was sitting on a wooden stool next to him and smiling. Both boys have suffered from cerebral palsy since early childhood. Due to the severity of the disease, Hakob, at the age of six, is unable to speak and struggles to control his body, but Davit has visibly improved after recent therapy in one of Armenia's sanatoriums. "I can now use a walker!" he declared proudly, as his shyness gradually faded away.
The boys live with their mother Julieta and two elder brothers. Julieta was out when I arrived, at a prayer session in a nearby church. Those afternoon prayers are the only times she leaves her sons; her mum comes over to watch them. Their father left the family a few months after the boys were born and diagnosed with cerebral palsy. "He never reconciled himself with the idea of raising children with a disability. He was constantly asking me to leave them," Julieta remembers sadly when she returns, recalling her years-long lonely journey of unsuccessfully seeking treatment for the boys.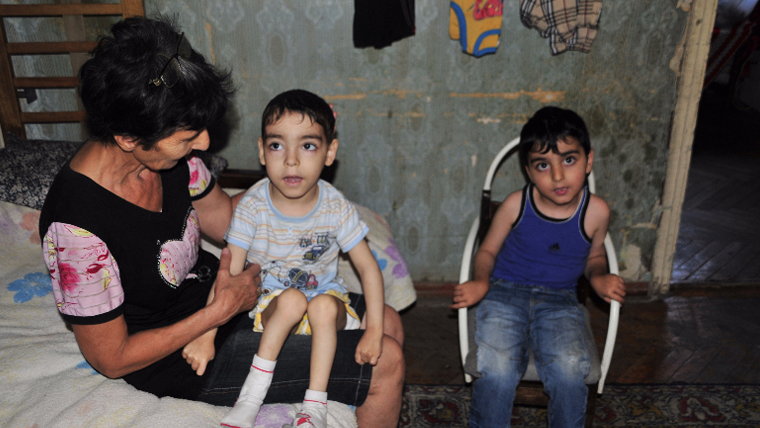 World Vision came into the family's life a few years ago when Hakob and Davit became sponsored children. Their sponsors in the UK have helped them access essential equipment like a wheelchair, walker, and washing machine, and also covered transportation expenses for them to receive medical help in Yerevan."People at World Vision are like my relatives, I call them my sisters and brothers whom I can contact whenever I feel hopeless," Julieta smiles.
The apartment I visited that afternoon is rented; the family lives in desperate conditions and depends on a state subsidy of 90 thousand AMD a month (around £170). A single ten-day session of physical therapy for the boys at a private specialist costs 60 thousand AMD (over £100). "Doctors recommended us to take therapies periodically, but I can only afford it once a year within the state programme," Julieta said, adding "if we could afford to keep up the therapies, Davit would walk freely within months." Meanwhile, Davit amazed by my camera, demanded to see every shot before he would speak to me. "Most of all I love my mother," he told me as he smiled at the photos taken. His favourite memories were when he took part in physical therapy earlier this year.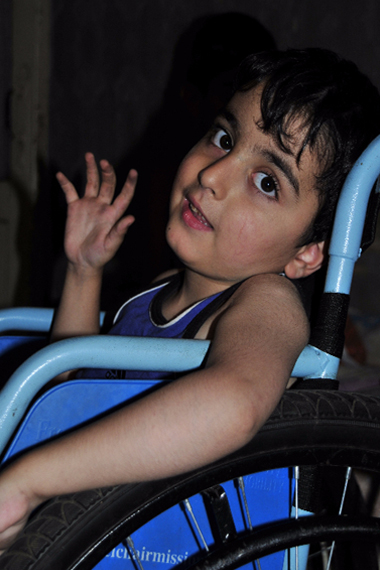 Davit is looking forward to going to school: "I can count in English and Russian" he explained proudly. However Julieta told me that Davit will probably miss school this year, as the local school system in Alaverdi struggles to accommodate children with special needs. Julieta is planning to continue home-schooling him in the interim, but his brother Hakob really needs additional speech and language therapy.
Julieta confronts daily hardships as she struggles to secure treatment for the boys. She does not work; caring for Hakob and Davit takes all her time. "Do not worry, I am waiting to grow up and will help you," Davit said, comforting his mother. Julieta burst out into a laugh, and Davit and Hakob joined her with smiles. "I have no idea how, but I feel he will accomplish something significant in his life," Julieta concluded. And that was exactly the idea I took with me as I closed the door behind me. I was filled with the cheerfulness of the boys and their unbending spirit of hope. Together, that family, the boys' sponsors in the UK, and World Vision are all fighting for them to have the brightest futures possible, a future where the possibilities of what Davit and Hakob can accomplish are infinite.
World Vision is committed to partnering with the people of Armenia to improve their lives today and to help deliver sustainable solutions for the future of their children, families and communities. If you'd like to find out how you can help, you can read about how you can sponsor a child in Armenia, here»
A celebration of children across the UK who've been inspired to fundraise for more vulnerable children during the global pandemic.
From genocide to pandemic: World Vision South Sudan's Emilienne Cyuzuzo is helping vulnerable families facing COVID-19.
12-year-old refugee Priscillia, in the DRC, is trying to protect her friends and family from the coronavirus pandemic.
Bored of banana bread? If you're looking for some foodie inspiration join World Vision child sponsor Rhiannon Tuntevski on a culinary journey.