"I cried all day. It didn't feel real": Struggling with HIV in India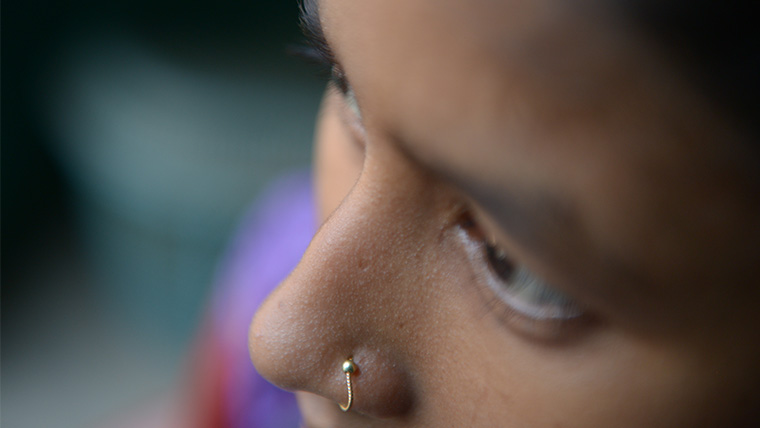 This Zero-Discrimination Day, we're sharing the story of 13-year-old Kavita and her family. When Kavita's father was struck down by a mystery illness, it grew progressively difficult for her family to get by; they were pawning belongings for food and unable to pay school fees. But when they found out her father's illness was HIV, things got even harder for the family...
When Kavita remembers her father, it's always his homecomings she thinks of.
"He always remembered that purple was my favourite colour. He had just come back from his work trip. Seeing a purple dress and a packet of sweet biscuits in his hand brought me so much joy."
Kavita's father Ramesh* worked at a leather market and made frequent business trips to Kolkata. The money he earned meant Kavita and her two siblings grew up in a fairly middle class household.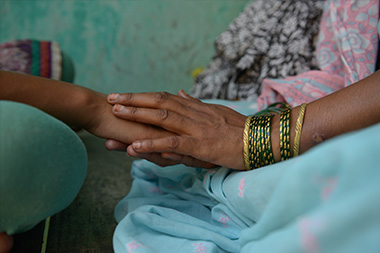 "We would get up at five am, have a wash and board the bus for school. We studied in a private school back then. I loved my school. We had good uniforms and it was a nice big building. After school we had after school clubs , and after that we would eat. Mum made things we liked," remembers Kavita.
It's been nearly four years since her father's death, but the memory of Ramesh's declining health still feels fresh for Kavita.
"Like any other trip he returned home, but something was wrong. He was coughing a lot and had a very high temperature. The cough lasted for a long time and his back and joints started to ache. After that he was never the same," Kavita told us.
When Kavita's father fell ill, it wasn't immediately obvious that his symptoms were HIV.
"He took medicines for his cough, and when he felt a little better, he used to go back for his business trips to Kolkota," Kavita explained.
Ramesh found it increasingly difficult to continue his previous life, and his illness made him grow weak and tired.
"He was too weak to travel so he was at home. There was so much frustration within him. He liked to be left alone and didn't want to talk to anyone. He had become skin and bones, as if all the blood had been sucked out of his body and his face became very dark," said Kavita.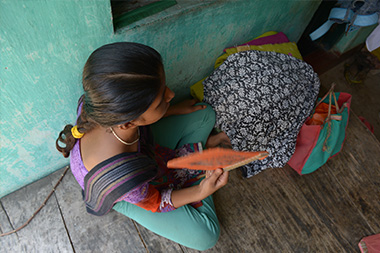 With her father too ill to work, Kavita's family fell on hard times. Suddenly they had to borrow and pawn their belongings, just to get by.
"We had no money left. For three years, father was at home unwell. There was no income. All the money we had was spent in treating my father. Mum started to sell her jewellery piece by piece. It pained my heart to see her removing her favourite pair of earrings in exchange for food," said Kavita.
However, the impact of Ramesh's illness didn't stop there. The family soon found themselves unable to pay the school fees for Kavita and her siblings.
"Our names were pulled out from private school. Every day I went up to my parents, begging them to let me study. I missed everything about school, the joy of moving to the next class, buying new books, discussions with teachers, interacting with friends. In one moment, all that was taken away from us. I didn't understand it at first so I cried a lot but then I learnt to accept the situation," she says.
Eventually, Kavita says, the family reached a point where they needed help and decided to take Ramesh to the local hospital.
"Nothing was working. Then, against my father's wishes, my uncle took him to the hospital. That day was the scariest day of my life." Kavita recalls.
It came as a revelation to the family that Ramesh was HIV positive. For Kavita's mother, Seema, she knew this would carry wider health implications for the entire family. She was the first to walk into the testing room.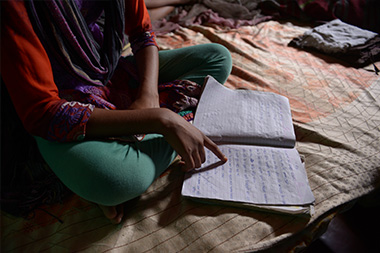 "When we heard the news of my husband's diagnosis, my heart sank. All that was running through my mind was 'how did this happen to us?' He told my brother the reason could be a blood transfusion at hospital in Kolkata. I was then advised to get tested too. My turn came. I walked in and walked out. Then there was the wait. The result was out. They told me that I was positive too. I cried all day. It didn't feel real. It took some time for the news to sink in. My attention then shifted to my children. I remember praying when they drew my son's blood - Please God not him too," says Seema.
Thankfully for Seema, her children were given the all clear, but it was difficult for her to come to terms with her own diagnosis. Her mother is now helping to support the family, sending money whenever she can.
Since the passing of her father, Kavita worries for her mother's health and is fearful of how the community is reacting to the diagnosis.
"The illness took my father's life. My mother has been taking her Antiretroviral medicines for the past four years. The doctor advised her to eat nutritious food, fruit and have milk, but we can't afford it. There are times we just have a chapatti, some salt and chilli, and times when we don't even have that. The news of my mother's illness keeps people away. We live in isolation because people fear they will catch the illness by interacting with us. My mother is weak and her eyes tear a lot. I fear for my mother's health. I don't want anything to happen to her. She is all I have left," says Kavita.
The aftermath of HIV infection in a family is always a challenging and complicated issue. Children like Kavita and her siblings face being stigmatised and discriminated against in their local community; many infected children have the additional challenge of poor access to health care and paediatric anti-retroviral drugs. World Vision is working to address stigma and discrimination by getting affected children the support they need, and is joining other charities and NGOs in focusing on the goals of UNAIDS - to end the AIDS epidemic by 2030. To learn more about World Vision's work in India, and how you can help with sponsorship, click here »
*Ramesh's name has been changed to protect his identity and keep his family safe.
As climate change dries up water sources, Qudrat's children in Afghanistan are glad of a new water system in their village – powered by the sun.
You don't have to be an extrovert to be a great fundraiser. Discover introverts' valuable secret skills. Tips and ideas for starting your own fundraiser.
Why sponsor a child? Find out about the benefits of sponsoring a child – for them and you – from UK child sponsors.
Discover why Simnel cake was good for you. Find out how we boost children's nutrition now and join us in an Easter prayer.