Farming families struggle to survive in drought-stricken Ethiopia

By Steph Glinski, Field Content Manager World Vision UK
"We were waiting for the rain, but the rain didn't come. Our crops were on the brink of dying, but one day, the sky filled with clouds. I was hopeful, but it never rained. Instead, thick hail fell violently from the sky like bullets; killing the little harvest we had left."
Belaynesh sits on the floor next to an open fire with a teakettle boiling. Washing beans that she purchased at the market, the 13-year-old tells her story.
"This has been a bad year for us. We live on a hill, far away from the river and can't have an irrigation system. We depend fully on the rain. If it doesn't come, we don't have food."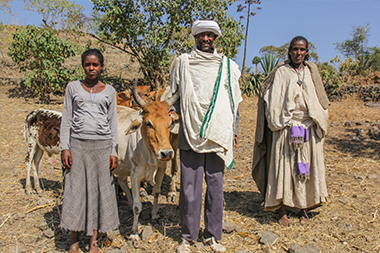 A farmer's daughter, Belaynesh helps her family whenever she can, often in the burning heat of the afternoon. The family lives in a small hut, made out of wood and straw, surrounded by their now barren fields. With neither a good roof nor mosquito nets, malaria is the second biggest threat the family is facing after the failed harvest. "My wife recently caught the virus and I had to take her to hospital for treatment," explains Gebru, Belaynesh's father. "It's something we can't afford easily."
Poor harvests and hunger continue to be a tangible issue throughout Ethiopia, so Belaynesh's family have learnt not to depend on their harvest. The 13-year-old is a sponsored child, and over the years, the support of her sponsor has helped make up for the rain in other ways.
"We were given a cow by World Vision and it soon became pregnant. We now have four cows and one bull and I take care of them often," she smiles.
"We still have grain from last year's harvest and we have some money to purchase additional food at the market, but if everything fails, we still have our cows and can sell them at the market," Gebru jumps in. For now he has shifted from being a crop farmer to taking care of animals. "They are our biggest asset and I'm confident that we will make it through this difficult year. In the future, we can also use the bull to help with the farming."
A Year-6 student who likes English classes and lives just a 15-minute walk from school, Belaynesh is proud of the cows. "I have received school supplies in the past, but the cow was the best present our family was given, because it has multiplied. When I come home from school, I often spend a few hours taking care of our little herd and in the mornings, I always get to drink the fresh milk." Eating two meals a day, Belaynesh added, "I feel much better when I see the cows, because it takes away my fear of the next year."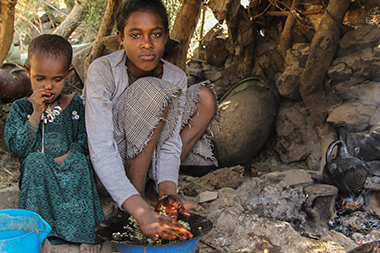 As a new farming season is approaching, Gebru is hopeful again. "Our harvest is mainly for our family, but we also have to sell a part of it in order to pay taxes. We save whatever we have left. While this year has been disappointing and we have been eating less as a result, I am confident that it will get better. If it doesn't get better, we still have our cows."
Dressed in a long white rope and sitting on a mat next to her hut, Belaynesh's mum Worke has been listening to her daughter and husband. "This year we had people from fertile areas of our country travel out here to sell grain," she explains, while getting up and walking towards her own fields. The soil here is dry and the earth is cracked open into tiny crevasses. Nothing is left of the maize, grain and chickpeas the family usually grows. The fields are covered in dry hay. "This is what the cows eat. I'm sometimes scared, but when I see that our cows are doing well, I am hopeful that our family will be fine, too," says Worke.
World Vision has been working in Ethiopia since the 1970s, and was one of the main agencies operating emergency response programmes during the 1984 famine. Today, much of our development work is channelled through child sponsorship. This year's El Nino weather phenomenon is one of the strongest in the past 50 years, and has created a crisis affecting 60 million people. In countries like Ethiopia, Zimbabwe, and Malawi, many are suffering the consequences of drought. In Ethiopia we're supplying seeds to the most vulnerable families and thanks to funding from the British government's Start Fund, 9,654 families have been able to plant drought-tolerant, early maturing crops including potatoes, maize and beans, with the next successful rains. You can find out more about our work in Ethiopia here»
More children than ever are out of school right now. Too many of them will become vulnerable to exploitation and abuse. Find out what can you do about it.
Mark and Christine from Newcastle, met their sponsored child in India during lockdown. The virtual visit is a new way to meet your sponsored child. See how it went.
Renee became a child sponsor hoping to make a difference to a child in poverty. Read her story of how Child Sponsorship brings change and joy to her life too.
One way or another, children around the world are getting back into education. Find the top 5 reasons why it matters.