Preparing for the worst
By Bert Smit, Regional Portfolio Manager, Southern Africa Region, World Vision UK
Malawi is a beautiful country. As the car goes from the airport, in the capital Lilongwe, to the city of Mzuzu, two hundred miles to the North, I'm impressed as I gaze out at the landscape and the mountains. There are many plots of agricultural land, and they obviously seem to be prepared for sowing. But nothing is growing here.
I ask Charles, one of the World Vision drivers, why this is happening. He tells me: "People are still waiting for the rains to come in order to start sowing." During the last two rainy seasons, the rains have been few and erratic. And this year's El Niño season is making it even worse. Sowing your crops before you can be sure that the rains will come is risky. If the seeds germinate but the rains stay away, families will lose a year's harvest.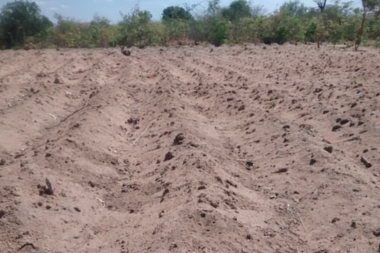 I watch out of the window as we drive past plot after plot of land where nothing is growing. Eventually we reach Kayezi, an Area Development Programme that has been supported by World Vision UK sponsors since 1997. The community receives me with singing and dancing, and it is heart-warming to see how joyful they are about the relationship they have with World Vision.
I am eager to ask them about El Nino and the empty fields I've seen during the drive. "How are you preparing for this growing season, if the rains may turn out to be less than we hoped for?"
I talk to Tiwonga Hara, chairperson of the Women Care Group that we helped to start, and she tells me that yes, they are concerned about the coming months. They aren't sure if the harvest will be enough to feed everyone. But the community is doing their best to do something about it. "One of the things we are doing is to try to convince the people to grow crops that are more drought-resistant."
Families in Kayezi traditionally grow maize, their most important staple food. But maize takes a relatively long time between germination and harvest, and is therefore one of the riskier crops to grow when the rains are erratic.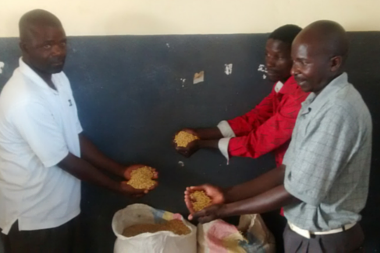 Other products like sweet potatoes or cassava take less time to grow, so they have a better chance of giving a good result, even in this challenging season. It is not easy to change traditional agricultural patterns, but we've been working with the local Department of Agriculture to make more drought-resistant seeds available and teach the community about the benefits of growing these other crops.
The community tells me with much enthusiasm about the other things they are trying to do. Buying food items has become expensive, especially for small children. So as part of sponsorship, mothers have learned to use the little they have to make a nutritious porridge for their babies from the age of six months.
And in the Savings Group, they have been laying money together little by little, to prepare themselves for the worst. Annie Gumbo, chairperson of the group, tells me: "Thanks to the Savings Group, I can be sure that I have enough money to buy the rations for my goats, so that they will survive."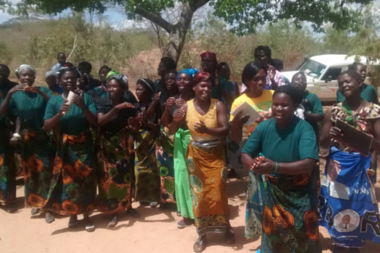 Still, the community hasn't been able to do everything they wanted. My next meeting is with a farmers' association. Their chairperson Silvester Makwakwa says: "We wanted to distribute seeds to the wider community as well, so that they won't go hungry. But because the last three rain seasons were so poor, we've been struggling to produce enough seeds."
Indeed, in the room where we're sitting, I can only spot three or four seed bags in the corner, and that's it. "One day, we hope that this room will be filled with seeds instead of chairs," Silvester adds.
World Vision is undertaking food distribution alongside the World Food Programme in affected areas of Malawi, where heavy flooding and prolonged dry spells have reduced crop production. However, El Niño isn't just a phenomon that affects Malawi, but disrupts food supplies across much of Southern Africa, as well as Central America and Oceania. We hope and pray that with the help of our sponsors and donors, we will continue to be able to make a difference and bring hope to people affected by food insecurity around the world.
More children than ever are out of school right now. Too many of them will become vulnerable to exploitation and abuse. Find out what can you do about it.
Mark and Christine from Newcastle, met their sponsored child in India during lockdown. The virtual visit is a new way to meet your sponsored child. See how it went.
Renee became a child sponsor hoping to make a difference to a child in poverty. Read her story of how Child Sponsorship brings change and joy to her life too.
One way or another, children around the world are getting back into education. Find the top 5 reasons why it matters.