The days of feeling unsafe are over now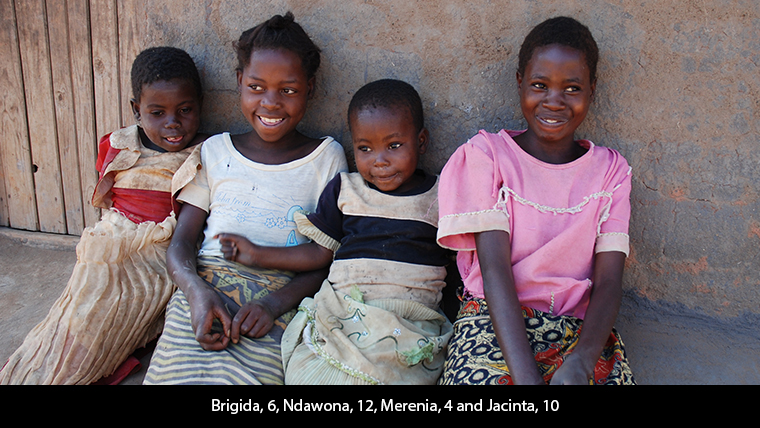 After losing their mother, 12-year-old Ndawona and her five siblings were left sleeping in a mud hut covered with dry grass. The poor condition of their shelter meant that it leaked every time it rained, forcing them to stand up in the middle of the night, and the lack of a door was a constant risk to their safety. But thanks to a local Health Committee trained by World Vision, the future is now looking brighter for the young family.
It's a Friday morning and the sky is blue. A group of 10 children have formed a circle, clapping, singing and lifting up their hands while one of them dances in the middle. They giggle and their faces shine.
Their smiles and happiness are for a reason – a new house has just been built for Ndawona and her siblings Blandina, 18, Konduane, 16, Jacinta, 10, Brigida, six and Merenia, four.
It's a proper two-compartment house, with walls. While it is still made from mud and covered with grass, the security it offers provides comfort for Ndawona and her younger siblings; unlike the old one, this new house has a door and a lock.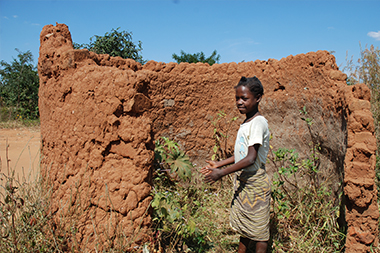 The young family have been fending for themselves since their mother, Angelina, died. Shortly after, their father abandoned them and went back to his home country of Malawi, leaving his children to their own fate.
With nobody to support them, Ndawona's two elder sisters, Blandina and Konduane, head into the village each week in order to find work and provide for the young family. They often stay for more than a week, doing casual work and only returning home occasionally, when they have managed to get food.
Previously, the small hut they slept in was falling apart. It was uncomfortable and unsafe for six children to sleep in, and besides a rudimentary shelter, was completely exposed to the elements.
'Most nights we slept afraid'
"There was no way we could sleep peacefully imagining that something bad could happen to us while we were sleeping as there was no door to keep us protected from danger. Most nights we slept afraid that someone would come in and do us harm," Ndawona says.
"Sometimes dogs would come in while we were sleeping, or while we were away, and eat the little food that we had. The ceiling was also broken in such a way that when it rained, water came in and we all had to wake up and stand."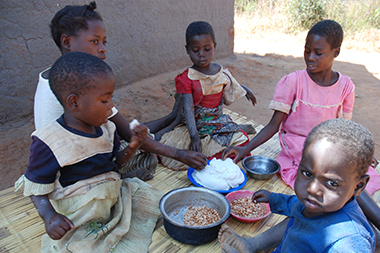 Without her mother, and with her older sisters absent, Ndawona takes the lead at home and provides and cares for the family.
"I wake early in the morning, fetch water, clean the house and go to school at 7am. When I come back from school I do some domestic work in the neighbouring houses and they give us food, which I cook with my sisters," explains Ndawona.
"We usually eat maize porridge and vegetables, but sometimes we get to eat rice and fish," she adds.
'We were deeply moved'
Realising the children had been living in an insecure shelter, the local Health Committee, trained by World Vision, decided to use its own funds to build a house in order to provide Ndawona and her siblings with safety and comfort.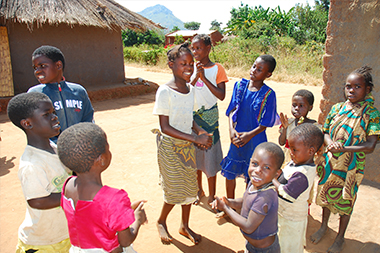 "We were deeply moved by the suffering these children endured and we decided to help. Now we are happy to see them smile," says Marta, a member of the Health Committee.The committee made the bricks and hired someone to build the house, while using community funds to buy the door. For Ndawona, this simple community gesture has restored happiness to her family.
"The days when we felt unsafe are over now," says Ndawona, and when it rains they no longer have to wake up and stand.
World Vision is committed to partnering with the people of Mozambique to improve their lives today and to help deliver sustainable solutions for the future of children like Ndawona and her siblings. Areas of focus include school construction, increasing food security following extensive flooding last year, and raising awareness of HIV/AIDs. Discover more about the communities we work with in Mozambique »

More children than ever are out of school right now. Too many of them will become vulnerable to exploitation and abuse. Find out what can you do about it.
Mark and Christine from Newcastle, met their sponsored child in India during lockdown. The virtual visit is a new way to meet your sponsored child. See how it went.
Renee became a child sponsor hoping to make a difference to a child in poverty. Read her story of how Child Sponsorship brings change and joy to her life too.
One way or another, children around the world are getting back into education. Find the top 5 reasons why it matters.