World Vision made them feel safe again

By Carina Wint, Media Specialist, World Vision UK
The Children of War centre in Gulu, Northern Uganda, is located off the main road and hidden behind two large rusty gates. It's only the small orange sticker that gives it away as a World Vision office. On the other side of the gates lies a sparse, patchy lawn edged with basic, one-storey buildings topped with corrugated iron roofs.
This unassuming group of buildings is no ordinary place. Since 1995 over 14,000 people have come through it's doors – almost all of them formerly abducted, the majority of them former child soldiers - victims of Joseph Kony's infamous Lord's Rebellion Army (LRA).
Today, 12 February, is International Red Hand Day, a UN day to reflect on the global phenomena of child recruitment.
It's been almost 30 years since Kony embarked on his reign of terror across northern Uganda, South Sudan and the Central African Republic. The LRA was famous for two things: the deliberate use of child soldiers and the level of brutality it exposed them to. Children were forced to mutilate other members of the group on demand by rebel leaders as a show of power.
In Kony's eyes these abducted children were his Hitler Youth, an army of indoctrinated children who would become a future generation for his cult-like, ideal society, with him at the helm as a divine, spiritual leader. When I was at the centre this winter, forced LRA recruits told me that children were perceived as pure and untouched within the LRA, and were given special status and privileges. However, these privileges were on condition of adhering to whatever the commanders said, and any dissent was met with punishment or death.
Recruiting and training child soldiers was key to Kony's strategy. Children would be rounded up, tied together and forced to walk for miles. Those who were not strong enough were executed along the roadside. Boys and girls as young as eight were forced to carry heavy loads as the nomadic LRA continually tried to outrun the Ugandan army.
Everyone had a place in Kony's LRA - it was a stratified military group. Boys were forced to fight and girls were forced to do domestic chores. They were also instructed to be become forced wives. And like so much in the LRA, there was no element of choice - you either accepted your bush husband or you were killed.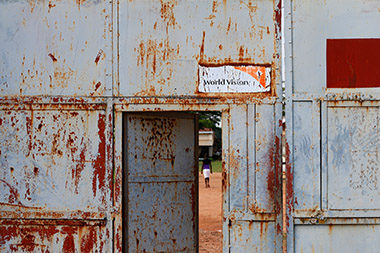 Strip away the persona of the figurehead and what's left of the LRA is a rebel group that killed tens of thousands, saw 1.9 million people displaced and an estimated 20,000 children abducted. 14,000 of those children came through World Vision's Children of War Centre in Gulu.
When they walked through those now-rusty gates they found a safe space in which to recover. As Harriet Aloyo, the programme manager in Gulu, recounts, "Many of the children were traumatised, badly injured and full of aggression. After what they experienced in the bush, they were severely damaged. Here they learnt to trust again. The centre became the home and family they had lost," she says proudly. A huge tent that once accommodated the girls and boys still exists in the compound, complete with a few left over bunk beds, that stand as a testimony to the thousands that found peace and shelter.
World Vision gave the former child soldiers counselling so they could start to make sense of the horrific ordeal they had endured. We also helped family members find each other again after years of separation. Many reunifications were successful, but the outcome wasn't always positive for everyone.
Some communities shunned the returnees and blamed them for the crimes that they had been forced to commit. For young girls returning with children, the situation was even more acute. In the patriarchal Acholi culture, fathers are responsible for their child's well being. If the father is unknown or happened to be an LRA fighter, than in the society's eyes, his shame is passed down to his innocent children who are then shunned and ostracised.
Many of the abducted children lost out on years of schooling. In order to transform their lives World Vision ran job-skills training with a partner organisation, providing the incredibly resilient survivors with the skills and confidence they needed to make an independent living. You may think Kony and the LRA is old news but people are still fleeing from the bush. Last year a nine-year-old boy was taken to the Children of War centre. Moses* was born in captivity. Both his parents had been child soldiers and both had died in the bush, leaving Moses and his sister orphans. Moses somehow managed to escape.
World Vision reunited him with his grandmother, who welcomed him with love and open arms. When I met him in December, just a few months after his escape, he proudly showed off his schoolbooks, filled with line upon line of neat handwriting. Moses had only attended school for seven months, and yet already his appetite for life and learning has been sparked. None of this would have been possible without his loving grandmother; and the love and support shown by the dedicated staff at the World Vision Children of War centre in Gulu.
World Vision is working in Northern Uganda and throughout the country through child sponsorship programmes, helping children like Moses receive an education and a life in all its fullness. Find out more about child sponsorship in Uganda »
* Moses' name has been changed to protect his identity and keep him safe.
More children than ever are out of school right now. Too many of them will become vulnerable to exploitation and abuse. Find out what can you do about it.
Mark and Christine from Newcastle, met their sponsored child in India during lockdown. The virtual visit is a new way to meet your sponsored child. See how it went.
Renee became a child sponsor hoping to make a difference to a child in poverty. Read her story of how Child Sponsorship brings change and joy to her life too.
One way or another, children around the world are getting back into education. Find the top 5 reasons why it matters.