Cooking with Grandma: Malnutrition in Zambia

By Collins Kaumba, Communications Officer, World Vision Zambia
When Hector's mother died, it wasn't immediately obvious that he was suffering from malnutrition. His weight plummeted and the local medical centre wasn't able to determine what was wrong, despite running a number of tests. It wasn't until his grandmother took him to a nutrition group that World Vision had helped to start in their community that his health turned around, and made him the smiling, happy child he is today.
"I never believed my grandson would survive the malnutrition; what I was clearly seeing in the boy's eyes was death which was getting nearer, day-by-day," Ireen told me.
About three years ago, Ireen became the main caretaker of her young grandson Hector, after her daughter, Rachael, passed away.
"My grandson was not showing any signs of illness at the time of his mother's death, but a month later, his health began to deteriorate; his weight was going down drastically and he became weak and thin," Ireen explains.
According to Ireen, Hector's weight plummeted to just five kilograms by the time he was four months old. Ireen initially suspected her grandson was HIV positive - the disease that had claimed the life of his mother. Thankfully, tests ruled this out, but Ireen didn't understand what was causing Hector's ill health.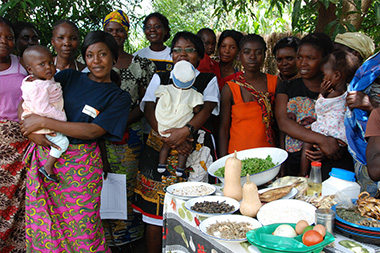 "I wondered what was happening to my grandson until one day, the nurse at the health clinic advised me to join a group of 30 mothers who were taking part in a feeding programme supported by World Vision," she recalls. "They were being trained how to put together nutritious food for their children."
Ireen joined the group ready to do whatever it took to make Hector healthy again.
"The group used to meet every Thursday to learn how to prepare nutritious food using locally produced food - like maize powder, beans, and sweet potato leaves. In one demonstration, we boiled eggs, removed the shell, then cut the eggs into small pieces to go with boiling porridge, green vegetables and fried groundnuts," Ireen explains.
"Surprisingly, even after having only been on the new diet for a few weeks, everything about Hector's health started to change. I was shocked! I couldn't believe it because the boy's skin - his entire body and hair - started to change," the jovial grandmother says with a smile.
Like many other community members, whose children have been on the nutrition programme in Keembe, Ireen has been astonished by the turnaround in her grandson's health.
"What World Vision has done for this child is amazing. I describe the food Hector survived on as 'miracle food'. Everything about sourcing and preparing the food is simple and easy but the results are amazing. I never thought the boy would ever be here today for me to tell his story and enjoy my relationship with him," Ireen says happily, rubbing Hector's back while he plays on her lap.
Ireen says she is now ready to support other community members whose children might be suffering from malnutrition.
"I have a huge testimony to tell others that it is important to feed children with nutritious food which is also locally available. The food is easy to find locally and is also cheap to buy. People do not have to travel anywhere to buy the food instead," she reiterates.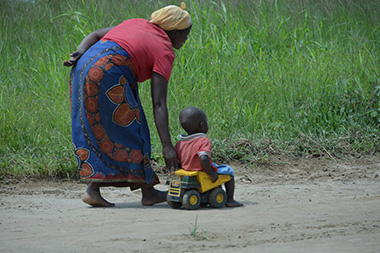 Since Hector was introduced to the feeding programme at the age of seven months, his weight has drastically increased from six kilograms to his current weight of over 13.5 kilograms. Today, three-year-old Hector is happy and friendly, smiling with the people around him as he plays with his toy truck which he received from his sponsor back in the UK.
Iris Moonga, the nurse who was part of the feeding programme for malnourished children, says the programme has saved the lives of many children.
"The number of mothers with malnourished children was overwhelming; we were recruiting them at different stages, and at the end of the programme there wasn't a single child who'd died," she says. "The achievements of the programme is now sending a ripple effect countrywide because mothers with whom we've worked are being sent to different parts of the country to train others."
Current statistics published by the Zambia Demographic Survey and UNICEF show that nearly half of children in Zambia are underweight, while 40% show signs of stunted growth. World Vision seeks to address this by improving the health of pregnant mothers, and sharing knowledge about breastfeeding, diet and the importance of using locally sourced food. You can learn more about our work in Keembe and how you can help through sponsorship here »
As climate change dries up water sources, Qudrat's children in Afghanistan are glad of a new water system in their village – powered by the sun.
You don't have to be an extrovert to be a great fundraiser. Discover introverts' valuable secret skills. Tips and ideas for starting your own fundraiser.
Why sponsor a child? Find out about the benefits of sponsoring a child – for them and you – from UK child sponsors.
Discover why Simnel cake was good for you. Find out how we boost children's nutrition now and join us in an Easter prayer.